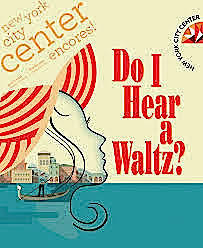 When Encores! clicks, it renders the imperfect to perfection. Do I Hear A Waltz? is a famously imperfect Broadway musical that very few ever got to see. (It ran for roughly six months, after opening in March 1965, and rarely gets revived). The fact that it was composed, musically and lyrically, by Richard Rodgers and Stephen Sondheim, respectively, in their only collaboration, is the sole reason Do I Hear A Waltz? has not disappeared altogether. It isn't absolutely necessary to know that Rodgers and Sondheim were behind Do I Hear A Waltz? to enjoy it, but it certainly adds extravagant subtext.
I've listened to the score over the years and liked it, but nothing prepared me for the vivacity and the richness of Do I Hear A Waltz? live, as Encores! delivered it at City Center this past weekend.
Adapted from Time of the Cuckoo, a 1952 straight play by Sondheim's frequent early collaborator, Arthur Laurents, Do I Hear A Waltz? charts the sexual blossoming and subsequent withering of an uptight American secretary on a first-time visit to Venice. To analyze the show at this late date is almost beside the point. No one has dissected its assets and liabilities better than Mr. Sondheim himself in his decisively edifying memoir and lyric-writing manifesto, Finishing the Hat, published just a few years ago. Do I Hear A Waltz?, Sondheim wrote, "was not a bad show, merely a dead one. It was well constructed, literate, even entertaining. It has some wit in the lyrics, some lovely music that could have come only from Richard Rodgers and a neatly constructed, touching libretto, but it was dead to begin with. It comes under the heading of... a 'Why?' musical: a perfectly respectable show, based on a perfectly respectable source, that has no reason for being...The authors never ...ask themselves what music will do for the story that hasn't already been accomplished by the original."
There you have it. The extraordinary thing about the Encores! revival of Do I Hear A Waltz? was how these disparate assets, expertly and lovingly displayed, added up to a marvelous, even memorable, evening in the theater -- without remotely rescuing Do I Hear A Waltz? from its inescapable failings.
There was something surreally exciting about this. Watching Do I Hear A Waltz? rising and falling on its strengths and its weaknesses was almost like witnessing a cage match between two gladiators. One could sense Sondheim jabbing at the constrictions of Rodgers' pleasing, but often squarely standardized, melodies with biting -- even bloodying lyric wit. And one could luxuriate in Rodgers' sporadic melodic majesty when it simply swept Sondheim's words up in its wake.
The cast put together by Encores! was marvelously true to the show's elements of allure, without patronizing or commenting on the limits of that allure. Do I Hear a Waltz? is a show that doesn't necessarily cry out to be revisited but wonderfully rewards re-examination by sensitive and acute performers, like Claybourne Elder, Sarah Hunt, Zachary Infante, Cass Morgan, Richard Poe, Michael Rosen, Sarah Stiles, Richard Troxell -- who attained Ezio Pinza-like tenor heights on the Rodgers high spots, the songs, "Take the Moment," and "Stay" -- and especially Melissa Errico, who managed to be both delightful and disturbing as Leona Stamish, one of the most irritating lead characters in musical theater history.
The true co-star of this Encores!revival may well have been Ralph Burns' orchestrations, which are lush, lithe and linger in the ear and in the heart. Rob Berman's musical direction underscored every nuance.
In the end, I couldn't help thinking of Adam Guettel as I absorbed Do I Hear a Waltz? in all of its contradictions. Grandson to Rodgers, heir to Sondheim, Guettel's greatest achievement thus far has been his exquisite, Tony-Award winning, The Light in the Piazza, which shares Do I Hear A Waltz?'s Italian setting (Florence, rather than Venice) and American touring female's coming of age premise. In fact, Light in the Piazza also possesses much that Do I Hear a Waltz? lacks: real romantic passion, a story-painting eloquence in the music and, perhaps decisively, a penetrating empathy that transcends stereotypes. Yet, these are the very qualities, missing in Do I Hear a Waltz? , that Guettel (and his generation) clearly absorbed from Richard Rodgers and Stephen Sondheim. It is a continuum that one can trace, for better and for worse, right through Do I Hear a Waltz?. I'm really glad I got to experience it.