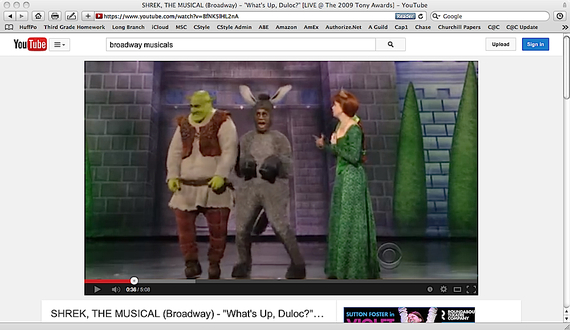 There was no YouTube the last time I wrote about the Broadway musical. There was no Twitter, no Facebook, no iPhone, no Glee. Ten years ago this past month, my book Ever After: The Last Years of Musical Theater and Beyond was published, to not insignificant acclaim and not quite sporadic calumny.
An unapologetically opinionated history of the preceding 25 years in musical theater (1978-2003), on- and off-Broadway, Ever After was derived from articles that I'd regularly written about the industry and the art form for New York Magazine, The New Yorker and, especially, for The New York Times. Commencing with the closing of A Chorus Line and concluding with my prediction (more of a prayer) that musical theater's future would embrace the brilliance of composer Adam Guettel's as-yet-unseen masterwork, The Light in the Piazza, Ever After struck a chord that reverberates still (if only in my head). Published by Applause Books, it remains, miraculously, in print.
I took a long break from musical theater after Ever After, having said pretty much all that I'd wanted to say. In the interim, I seem to have missed more in the way of technology than content. (What would most musicals be today without YouTube? Evanescent.)
Still, to mark Ever After's 10th anniversary, I've decided to revisit my former beat and update the book with an inquiring look at what's gone on since its 2004 publication. Why? Because I find that I've missed it. While I have continued to write about opera over the past decade for Opera News, nothing thrills me more than savoring a terrific new musical. I'm going to take matters year by year, post by post, and play catch-up quick. After that, I hope to carry on covering what's best (and otherwise) about current musical theater, pondering the "who," "what," "where," and even the ever-imponderable "why" of musicals today.
After the Tonies, stay tuned...