For those who haven't heard, Apple has moved up in the world.
And no, this time I'm not talking about their stock price. Instead, I'm talking about their status within the hallowed walls of Selfridges, London's iconic department store and inspiration behind the hit TV series Mr Selfridge. Here, even the mighty Apple have hitherto been relegated to the depths of the basement towards the rear, deep in the home electrical department with the likes of Philips and Samsung for company.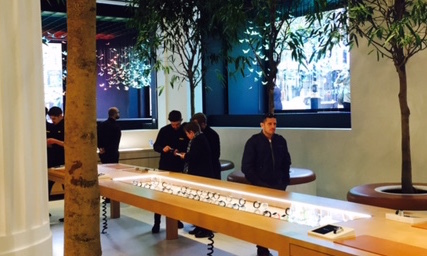 Now they have a new corner boutique with a window on the ground floor - the premier site in the Wonder Room - which in turn, is the premier room in the store. Here their brethren are Gucci, Cartier and Rolex. Not so much a step up as a giant leap forward - and more importantly if you're Apple, access to an even higher spending customer than their faithful iGeeks.
Apple's new boutique is the London showcase for Apple Watch, positioned well away from the hoi polloi of the much larger Apple Store, speaking to an entirely new use occasion for technology.
I'll admit it - since Apple Watch was announced, I've been a sceptic. As someone who gets irritated by push notifications on my mobile interrupting my day, I've simply never been able to comprehend why anyone want their wrist buzzing every two minutes. But as an Apple-phile, I'm open minded and wanted to give it a shot. I wanted to try it on and have a 'wow moment'. I wanted to put it on my wrist and feel something. I wanted to suddenly understand what Apple was up to with this product. And where better to be wow-ed than the Wonder Room?
So to try a watch on, you have to first schedule an appointment online. At this point, I have to say: there's something kinda meta about scheduling an appointment to try a watch. (Without the watch, how would I arrive on time?) Once I got over that and my brain cooled down, I arrived in the Wonder Room of Selfridges Oxford Street full of trepidation and awe, as if I was about to go on a blind date.
To set the scene, the Wonder Room is full of £30,000 watches. Apple Watch is, comparatively, the bargain of room. Nevertheless there remains something intimidating about approaching a salesperson in such a room, in spite of the happy-clappy Californian vibes.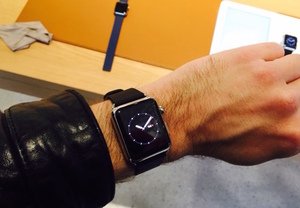 Once I got talking to my salesman, my first 'wow moment' didn't involve a watch. Instead I was quietly impressed by the slickness of their marketing machine. Within the first 5 words of our conversation, my Apple ID was visible on his iPhone and everything I said was dutifully and discreetly tapped in.
In what felt like an act of theatre, the holy grail was then taken from it's case and gently placed around my wrist, with a gentle snap as the magnetic strap locked. "How does it feel?", purred the salesman.
I use the word 'salesman' loosely, of course. Because in keeping with modern retail trends you can't actually buy an Apple Watch at the Apple Watch store. You can just 'experience' it.
My salesman was coached in small talk and I quickly realised this retail encounter wasn't anything like buying an iPhone. I'm certain it was much more akin to the Rolex counter just across the room. The conversation focused on the provenance of the leather strap, the style of the watch face and how wearing the watch made me feel. Technical specifications weren't mentioned once.
After spending 10 minutes stroking this watch and waiting for my 'wow moment', I realised it was never going to come and it was time for me to walk away. Within seconds, my pocket vibrated and lo! I had an email in my inbox with two selections. The watch I tried on (a snip at £559) and another cheaper model, which I had never actually tried but was presumably included in the email to make the price of the watch I wanted seem normal.
In spite of my best-in-class retail 'experience', I'm still not sold in splashing out that much money on a watch and remain faithful to my analogue MVMT. In fact, I'm still trying to work out what the purpose of Apple Watch really is. But perhaps I'm just bitter, because in spite of clearly enunciating my vowels and making sure the syllables didn't mesh, my hands on moment with the Apple Watch largely served to remind me of one painful truth: Siri still can't understand Scottish accents.