Mendoza under the towering wall of the Andes is the high-altitude heart of Argentina's booming wine country. Just now the city and its province hosted--with an opening act in Buenos Aires--the third international Masters of Food & Wine South America festival.
I went down, my first visit to the country of Evita, tango, and futbol--and my chance to drink wine with the world's best sommeliers. Some highlights and impressions:
Malbec and Beef
Most people hear the words Food-Wine-Argentina and think: Malbec-and-Beef.
And indeed there was on exhibit mucho Malbec, the country's emblematic varietal, which in France is a blending grape for Bordeaux, and more proudly the main grape in the famous "black wine" of Cahors, just right for votre cassoulet. The style of Malbec pushed at the Masters by the many recently revved-up, foreign-advised wineries was alas clonish Robert Parker--meaning it tasted like thunderously alcoholic (gracias, Argentine sun) stewed oak. Not my style, I must say. Finish a bottle at lunch (if you can) and lunch finishes you.
As for beef, the Argentineans are besotted. Individually they eat roughly 25 pounds more of it per year than Kate Moss weighs. It's famously--weirdly, to my taste--soft, this beef of theirs. At one celebrated parilla (grill house) in Buenos Aires, the waiter carves your portions with the edge of a spoon! Steak softness comes from aging in the rest of the world; in Argentina your beef was on the hoof two days before you dine.
Better at Masters I liked the grilled lamb from Patagonia. It was served up succulently by El Pobre Luis, the Buenos Aires parilla supposedly dear to the heart of the other Evita, futbolling Diego Maradona. (Though the burly patron, Luis Acuña, hails from Uruguay, so roots for Peñarol of Montevideo, not Maradona's storied Boca Juniors club.)
Beyond Parkerization
Happily a fresher, fruitier world of Argentine wines lies beyond the oaked-up bombers--and from a range of varietals. At one of my favorite of the Festival's rounds of guest-cheffed, mountain-backed winery lunches and dinners--at Rutini's La Rural bodega--we savored a lip- smacking Apartado '02, a blend wine that's almost light at 13.5% alcohol. (The usual for reds is around 15%.) Heck, even Parker loves it.
Cabernet Sauvignon has an increasing presence in Argentina now. It's tipped as the grape of the future, according to one crack sommelier on hand. Cab in all that heat? I wondered. But apparently it's a profoundly versatile grape, adaptive to multiple climates. Who knew? (Not me).
Tannat, which in France provides Madiran, that other sidekick-for-cassoulet wine, has long been cultivated here. Now there's also merlot, syrah, pinot noir, and some tempranillo. Bio-dynamism is gaining strength. Denominations of particular interest beside Mendoza (where Valle de Uco is much upcoming) are Patagonia in the south, and the zones of Salta and San Juan in the northwest. And besides Rutini wines above, I loved the bottlings of Mendoza's La Anita bodega.
Will You Start with a White?
The classic Argie grape for vinos blancos is Torrentes. (Don't worry, I'll get to the star sommeliers shortly). It produces a tropical nosed wine that's wonderfully drinkable, a kind of easygoing uncomplicated gewürztraminer (a grape that's beginning to be worked with here). Chardonay-Viognier blends are a success. And quite incredibly, Argentina makes excellent bubblies. I never had a bad glass from any maker throughout the entire Festival. There's a tradition: when Chandon first opened an operation abroad, it was in Argentina.
Wine-making began hereabouts thanks to Italian immigrants (as much a presence in the country as Spaniards). For years the results were pretty much oxidized plonk. But in the last 10-15 years, with new foreign interest, things have improved dramatically--and are improving still.
Thanks to Italian immigrants too for the curious Argentine way with Spanish. They say "zh" for "ll" here: so "pozho amarizho" for yellow chicken, for example. And they drag out the ends of sentences like Italians,

The World's Champion Sommeliers
The two guys accredited as the planet's top sommeliers--they have competitions for these things--were on hand. From New York came convivial and dapper Aldo Sohm , a young prodigiously astute Austrian who is now Le Bernadin's wine director after starting at Walsee. He's an experienced Mendoza hand
I sat beside the other world champ, Andres Larsson from Sweden, at the lunch at La Rural. A wonderful chef from Sao Paolo, Alex Atala, supplied diversions such as liquid coconut risotto (very diverting). Larsson, who is big, handsome, and amiable, is only in his mid-thirties, and somehow finds time to play jazz guitar with his quartet (Coltrane and Bach are major influences) between zoomings around the globe talking wine and tasting it. He would be assessing some 400 wines in the upcoming days, he said. (No wonder wine pros don't swallow at tastings, they'd all be in AA). Despite his loftiness Larsson has an eye for good wines under twenty bucks. His Big Tip: the new, less expensive wines from Bordeaux.
Seated on my other side at lunch, in a spanking new Barça T-shirt (that's the Catalan futbol giant, of course) was Agusti Peris from Barcelona, who for years was sommelier at "the world's greatest restaurant" El Bulli with chef wizard Ferran Adria. Another amiable guy, Peris joined in on the face-pulling over enormous oaky wines in general. We agreed happily on a modest Spanish favorite: Artadi Viñas de Gain from Rioja.
Vines of Mendoza
It's difficult though to visit more than a couple of bodegas a day around Mendoza, as wineries aren't clustered tightly. A few years ago a visiting American, Michael Evans, decided what was needed was one place in town where you could tour all the bodegas, as it were, by glassfuls. Evans, a veteran incidentally of many Democratic presidential campaigns up to John Kerry's, accordingly in 2005 started up Vines of Mendoza. His operation now features a very pleasant commodious tasting establishment across the street from Mendoza Park Hyatt Hotel, local headquarters the Masters festival. Inside the hotel he has a winebar/vinoteca, too, The Vines.
Evans also has a more ambitious project with master winemaker Santiago Achaval It's called Private Vineyard Estates, and it enables you to buy a share of a vineyard plot in the Valle de Uco and, with Achaval's tutelage, make your very own vino. So you yourself can decide whether to Parkerize or not.
A Note on Hotels and Evita
Mendoza's Park Hyatt has a grand, recently restored 19th century façade; service is good, rooms are adequately comfortable if not exactly sumptuous. It has a casino too, if you're inclined to that kind of table action beyond the dining one.
The Park Hyatt in Buenos Aires, on the other hand--Masters hq for the opening nights in the capital--is a true glory, a world class pleasure. It occupies in part the landmark old sumptuous Palacio Duhau, and when you breakfast at the modern annex where I stayed, you look across a rising garden at the Palacio's cream-colored splendor. The staff has got cordiality down pat, too; you don't get that get-off-the-grass vibe which makes multi-star hotels such cathedrals of discomfort.
Five minutes walk from the Park Hyatt brings you to door of Evita's old apartment, at which you can gaze (but don't cry). A 15 minute walk brings you to her vault in the monument-crowded mazes of La Recoleta cemetery. Her coffin is sunk in concrete twenty feet below, they say; people apparently won't stop trying to filch it.
Argentine Wines with Food
For food pairing ideas for Argentine wines, see Matching Food and Wine, the website of English gastronomy writer Fiona Beckett, who was part of our very delightful journalistic crew down there.

Tango: Maestros and Mamas
Curiously, both grand figures of 20th century Argentine art--writer Jorge Luis Borges and tango singer Carlos Gardel--lived their adult lives with their mothers....
Here's a photo of heartthrob Gardel in a movie with someone not his mother: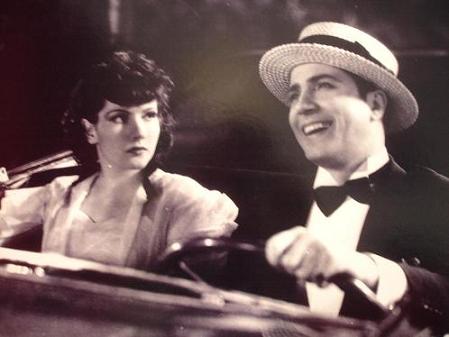 And here he is singing his much beloved "My Dear Buenos Aires."
Cross-posted at www.yourgrau.com