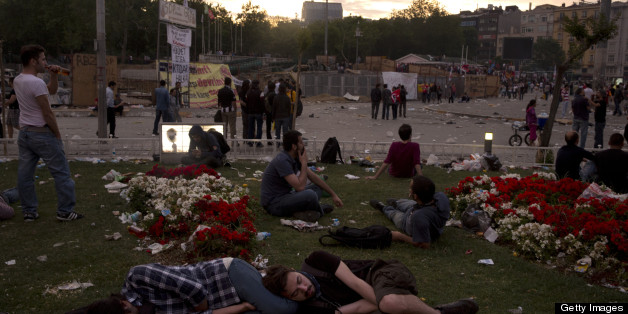 This is video I shot Saturday morning, June 1, on Istiklal, the main globalized shopping street in this besieged city's European side. The street runs into Taksim Square across from Gezi Park. Usually it's a swarming tide of tourists and locals. A different scene these days. More details after video.
Ten minutes after video, police who were massed at Taksim end charged with tear gas. We fled around corner -- only to see more police lying in wait at end of side street. A pinzer, a trap. Tear gas canisters fizzed all round, smoke billowing. Heavy duty. We forced our way into a narrow building and took refuge upstairs into what turned out to be the neighborhood office of the opposition party, CHP. An old dude gave me a lemon against the gas (one of the recommended therapies). I lemonized myself and my burning eyes under a poster of Ataturk. So we waited out the gas. Back down to the street -- which was shockingly battered and bashed from last night, windows smashed, graffiti scrawled everywhere, one shop a hulk. I gave my lemon away to a frantic couple who were hurrying along crying out with their child in distress.
Ugly, ugly scenes in this beautiful city. A police riot by riot police. The tear gassing is constant, everywhere, and utterly shocking. Tourists right in middle of some of it. Odd form of tourism.
Later up in fancy Harbiye area, near Ian Fleming's favorite Hilton Hotel, more heavy gas action. Protesters were shouting desperately, trying to haul to safety a woman who'd been overcome. Cops prevented me filming, even though I shouted I was press, waved my press card. Cop in riot gear shoved me back, I cursed him, another riot cop grabbed my arm and pushed me away, I shouted that I was an American journalist, which usually grants me impunity. Not this time. I cursed him -- "Fucker!" (Man, one gets to a level of rage very quickly in these situations.) He came toward me -- I scuttled off.
But if Turkish government thinks they should host Olympics in 2020, I think they going to have a rude awakening with this brutality. The city's outrage and solidarity is spreading like a brush fire. And the more gas they unleash, the bigger the fire may likely spread.
UPDATE: SUNDAY JUNE 2
Riot police pulled out of Taksim area Saturday afternoon. Gezi Park, Taksim Square, and Istiklal were an astounding sea of joy: thousands upon thousands of people sitting, wandering, chanting. In Taksim, several overturned and smashed cars (cop cars?). The action got heavy though in Besiktas area, just further north by the Bosphorus. Sunday morning, rain and quiet. For now.
More at Twitter: @barryyourgrau
This post originally appeared at Smirking Chimp