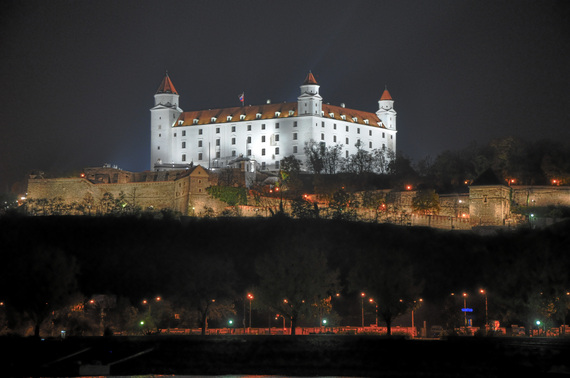 Bratislava Castle at Night (by Juraj Kubica)
Today we're 'traveling' to Bratislava, in this post I'll try to present Bratislava in a nutshell, which will then hopefully raise your interest in visiting the city yourself! Grab a map, try and find France (easy as pie right?). Then, drag your finger through Switzerland, little Liechtenstein and into Austria. Via Vienna you'll come across Bratislava, Slovakia.
Bratislava is Slovakia's biggest city, and also the (very young) capital. Fun fact: it's the only capital that borders two independent countries, Austria and Hungary. The capital boasts an impressive historical centre with medieval towers and century old buildings. There's the famous Bratislava Castle, Devín Castle, St Martin's Cathedral, Old Town Hall, the Primatial Palace or any of the buildings surrounding Franciscan Square. In fact, most of the architecture in Old Town is worth a gander. For dinner or drinks it's Cafe Verne, Corny Cafe, Gallery Andy or any of the places around Hlavné Námestie.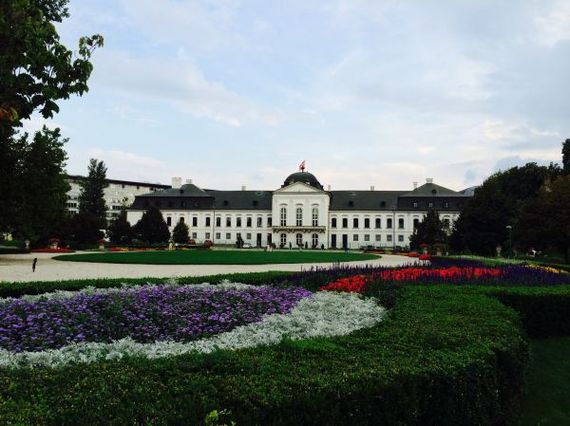 Grassalkovich Garden (by Paulina Popjakova)
Those are some of the highlights that your average guidebook suggests. But what are the highlights according to some of the locals? Paulina Popjakova recommends a visit to the beautiful green garden behind Bratislava's Presidential palace, Grassalkovich Garden. If it's food you're after then her favorite burger place, Regal Burger is a good place to go. She writes she's tried many a hamburger when visiting other cities and never had the chance to do the same at home. At long last though, she can get her fill at Regal Burger. And many of our visitors agree with her! We're keeping it in the family with this next suggestion, Paulina's sister Marina's favorite little bistro is without a doubt U Kubistu. All the ingredients are seasonal and make for a little party on your plate and then your mouth. To back her up, Tripadvisor also has a good rating for it!
What the guidebooks and our local blogger Eva Lelkesová definitely agree on are Shtoor HomeMadeCofe and Lemon Tree. The first finely represents the past with a menu in Old Slovak, everything else is up to date and fresh though! The latter is a big place where you can satisfy many desires. Fancy Mediterranean or Thai for dinner, you're golden! If it's rum or another liquor you're after you'll be well taken care of either downstairs or in the popular sky bar on the 7th floor.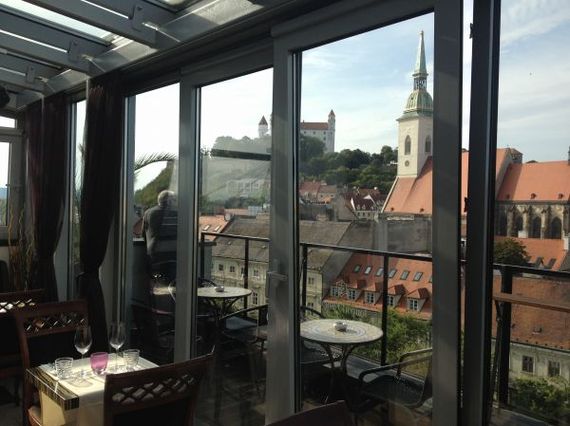 Lemon Tree (by Eva Lelkesová)
Finally, KC Dunaj a former shopping mall is also recommended by both locals and guidebooks. You'll find plenty of things to do here like parties, cultural events or Martin Jusko's favorite; Slávica design shop
Besides tips from Spotted by Locals and traditional guidebooks you can further your investigation into Bratislava via several blogs that locals highly recommend. First off: 'City Life', a blog that lists everything there is to do in the city. You will need to brush up on your Slovak though! Bratilicious, although also in Slovak, is a very detailed food blog listing all the great restaurants in the city. M_P_BA is another website that simply shows all great places to go, divided into useful and clear categories, complete with reviews from previous visitors. Bonus, it's in English too! Same goes for our last tip: inevents.org which shows all the "best international events in Slovakia's Capital!".
So there you have it, several reasons to visit Bratislava along with great tips to enjoy the city best. Have I convinced you? Our team travelled to Bratislava last year to meet our locals and we had a blast! Or are there things not mentioned that you think are imperative to represent the coolness of Bratislava best? Do let me know!