When I started writing down my thoughts on volunteer work for the Huffington Post, I either sounded self-aggrandizing or like a pageant contest hoping for world peace. The reality is that I was just a guy getting older and more confused about my place in the world, but found it through random acts of international service. I ended up creating Global Colors, a small volunteer organization working to bring about change through specific and unique volunteer projects.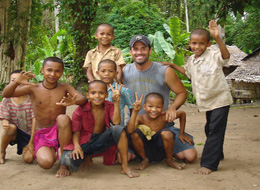 Before GC, my friends looked at my life as a collection of extreme circumstances or experiences, as the only consistency had been my need for change. My career, or the absence of one, was not based on lack of exploration - on the contrary. At 35 years old my resumé qualified me to broker multi-million dollar real estate deals, produce quality television, work in a children's home, or even as a line cook doing a little hand modeling on the weekends. If it was out there, I'd tried it, and had been fortunate enough to find relative success with each new venture.
It got to the point where one of my best friends began calling me Forrest Gump - you know, the guy who tries every random thing, becoming successful for no rhyme or reason. That being said, it made no sense to me. Socially, I found myself surrounded by dynamic and amazing people, on yachts and private jets, with the means to explore the world. However, the more I saw, the less intrigue the world held for me as a tourist, the less interesting a celebrity became, and I was no longer swooning over a house that was worth more than I could ever make in my lifetime.
My search began again, and realizing that I didn't know auto-mechanics, thought, what better way to learn than to build a car from scratch? Yeah, I know, but that's how my mind works. So I built a car, learning that the process gives a person plenty of time to think, and that wiring a car makes my head hurt. After months of reflection with wrenches and bolts, I decided to get back out in the world of exploration the way I started. No fancy hotels, no spa treatments, and just enough cash to get me from one hostel to another. I chose Cambodia, and ended up finding my life.
While in Angkor Thom, a friend saw some kids nearby and wanted to make them smile, so he started dancing around - making them double over in laughter. We went and talked with them, played a bit of football, and took a few pictures before we went on our way.
Later that night going through the pictures, there it was - the photo that would change my life. In my eyes it was a perfect picture - it was perfectly composed, with perfect smiles, perfect color, perfect children, and sheer joy - but surrounded by extreme poverty. This may sound strange, but for some reason, it felt like the family picture I'd never had. It was home, and I felt connected and responsible for the children I'd met that day. I have thousands of pictures of me with people around the world - yet this time it was different, and I had no idea why.
I imagine everything we do is based on a feeling, and on that day it all became clear for me. These children were going about their day in poverty - but happy - and their indifference to their need struck me. I no longer saw "global poverty" as a Sally Struthers infomercial that made me turn away because of the horror and scope of it all. They were no longer poor children to be pitied, but my little brothers who were just going through their day. The magnitude of the world stopped feeling like someone else's responsibility, or a barrier to me, and I knew that if I could just make the lives of these children better, it would at least be a start.
I got back to the states and set out to do something, but how? Who'd help me? I naively started making phone calls to organizations and NGO's working in Cambodia... "Hey, there are these kids in some huts by Temple Bayon... can I pay you to take something to them? No? Do you know who I can call?" Obviously I got nowhere, and while talking with a friend, he said, "Why don't you just do it?" but by this time I was broke again - with my only asset being a shiny red sports car. Good-bye roadster.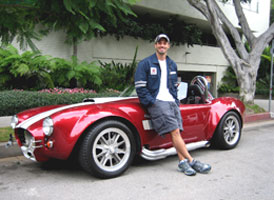 I sold my car on Ebay and cried the whole time loading it on the trailer to ship to the new owner, not realizing you could get so attached to a hunk of metal you built, but there you have it. I felt I had to do something, and this was the only thing I had of any value. One month later I was back in Cambodia officially launching my new little organization, Global Colors.
It was the first project of many, and set me on a path to blend my life experience to aid people around the world. My beautiful car became an education for kids in Cambodia, paid for me to incorporate a 501(c)3, and bought airplane tickets for me to get aid to people who need things - much more than I needed a second look in my hot car.
Now, what was once a random resumé - is part of a larger movement. Friends from television production spearheaded our recent education program in Cambodia, New York real estate colleagues were the largest contributors of our cows to widows in Kenya, and the wonderful friend with the private jet just helped me buy boats for refugees in Burma.
I've even found myself as an advisor at the UN regarding human rights in Myanmar, invited to the White House to be part of the first Malaria Awareness Day, and personally greeting Laura Bush in Senegal to start her African Goodwill tour. I guess that's the Forrest Gump in me coming back out. I'd like to think it's based on my research, hard work, or the passion I've found in my life - but I'm starting to believe that it's probably much more universal than that. I see that anyone can do it, because when you set out to help someone else and just open your mouth and ask, people like being part of making a difference.
I could never take on issues for the masses like UNICEF or the Red Cross, but I can make some dents in my own little way. My projects may be relatively small and random, but to those who benefit - they've changed their world. In turn, it has also changed the lives of those involved on this side of things. You can ask anyone I know and they can tell you about the needs of the Massai, the plight of the Ethiopian fuelwood carriers, and what we need to get done for the Karen refugees in Burma. That's how I see world change... all of us taking responsibility for just doing something - large or small - to help someone with different challenges than our own.
I find myself back in New York, looking to acquire skills to build my organization from little to big, while continuing the projects already in development. Though not ideal, Global Colors had incredibly successful projects before developing proper infrastructure (let alone a one to five year plan), and I suppose that's my new challenge. I know how to get the right kind of aid to a refugee camp - but deciding on letterhead, web design, business projections, proposals, grant writing, or fundraising, well, those are goals for this year - as the money from my Cobra is long gone.
If anyone has knowledge they'd like to pass on, I'd trade hour for hour. You? Business. Me? 'Guerrilla Aid' - a new mantra I describe as "the unconventional means with which a small group of volunteers use mobile tactics to combat a larger, less mobile, formal issue or problem".
I've finally found my place in the world, and it's the role of facilitator more than anything else. I head back to Burma at the end of January to implement things we are currently working on, and by all means, if you think you can help, give me a call and welcome aboard.
For more information about Global Colors, or to make a secure donation online - visit our website at Globalcolors.org