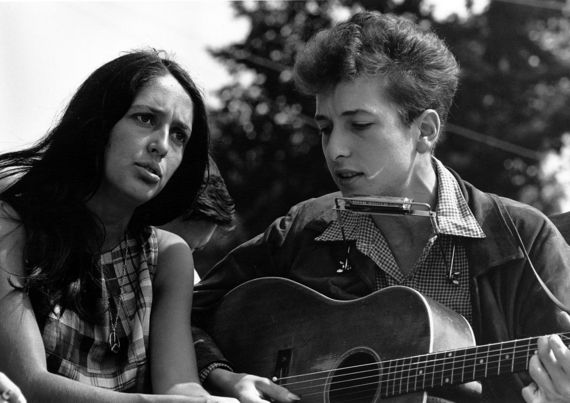 Firstly, what are civil rights? Is there a distinction between civil rights and human rights? In simplest terms, the difference between a human right and a civil right is why you have them. Human rights arise simply by being a human being. Civil rights, on the other hand, arise by virtue of a legal grant of that right, such as the rights imparted on American citizens by the U.S. Constitution. When The Civil Rights Act was enacted in 1964 the rights of every Americans regardless of race, creed or color became law.
Civil Rights was characterized by major campaigns of civil resistance and acts of non violent protest. Between 1955 and 1968, acts of nonviolent protest and civil disobedience produced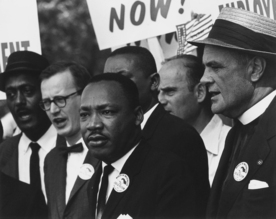 crisis situations and productive dialogues between activists and government authorities. Federal, state, and local governments, businesses, and communities often had to respond immediately to these situations, which highlighted the inequities faced by African Americans. Forms of protest and civil disobedience included boycotts such as the successful Montgomery Bus Boycott (1955-56) in Alabama; "sit-ins" such as the influential Greensboro sit-ins (1960) in North Carolina; famed marches, such as the Selma to Montgomery marches (1965) in Alabama; and a wide range of other nonviolent activities.
What does music have to do with civil rights? I was in high school when the march from Selma to Montgomery happened in 1965. Dr. Martin Luther King led thousands of nonviolent demonstrators to the steps of the capitol in Montgomery, Alabama, after a 5-day, 54-mile march from Selma, Alabama, where local African Americans, the Student Nonviolent Coordinating Committee and the Southern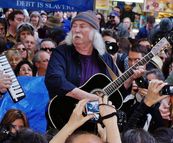 Christian Leadership Conference had been campaigning for voting rights.King told the assembled crowd: ''There never was a moment in American history more honorable and more inspiring than the pilgrimage of clergymen and laymen of every race and faith pouring into Selma to face danger at the side of its embattled Negroes'' Around the same time, young poets,musicians and writers were converging on Greenwich Village to join the civil rights movement, and wanting to make their voices heard. Musicians found that political voice in the Village, and began to write songs of protest that would change the world forever. Among those voices were Fred Neil, Tim Hardin Tom Paxton Bob Dylan, Phil Ochs, Judy Collins Arlo Guthrie, Ramblin' Jack Elliott, Richie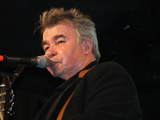 Havens, John Prine, Buffy Sainte-Marie, Pete Seeger, Sonny Terry John Sebastian, Roger McGuinn, Peter Paul and Mary, Steve Goodman Nina Simone, Eric Weisberg, Janis Ian, Happy Traum, Bette Midler, Harry Chapin, Paul Simon, Joni Mitchell, Don McLean, Melanie, Kris Kristofferson, Billy Joel, Phil Ochs, Ian and Sylvia, Dave Van Ronk, Gordon Lightfoot, Cass Elliott, David Bromberg, Neil Young, David Crosby, Jose Feliciano, Jerry Jeff Walker, Jimi Hendrix, James Taylor, and Carly Simon and they were all part of the social activism of that time. A song like Thirsty Boots sung below by Judy Collins, Arlo Guthrie, Tom Rush, and Eric Andersen (writer) was as critical a song to an understanding of the Civil Rights movement as Blowin' in the Wind
Suze Rotolo, Bob Dylan's girlfriend when they lived in the Village, said "We had something to say not something to sell."
The 1960's gave way to the '70's and I was playing in folk clubs like The Troubadour in London. By my side were folk musicians from all over the world. We were members of an after hours music club that we used to hang out at on the Fulham Rd in London. Bert Jansch, of Pentangle, and Ralph McTell and Robin Williamson and Mike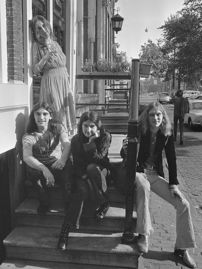 Heron of The Incredible String Band were regulars there and often would jam all night with anyone who had an instrument (and we all did !). The club used to open at midnight, and often by 2 a.m. there were dozens of us playing music we all loved. Down the road from The Troubadour a friend of mine, Mike Pinder of The Moody Blues lived. I used to hang out at his flat (after playing at The Troubadour,) and play music with friends, some of whom were American who'd come to London to avoid the draft. The Vietnam "police action" was raging and thousands of young Americans had gone to Canada and on to London and Europe. Our music scene in London had never been better.
We've always been saddened by even the hint of racism. It has no place in our schools, communities, or our lives. The thought of grown men prancing around in hoods and white robes is almost funny if it weren't so deadly serious. The thought that "pillars" of our community, judges, businessmen, and "any white guy" could enjoy the dubious bonding of a 'fun" lynching is abhorrent to us. It makes us want to fight even harder to stamp out bigotry, racism, misogyny and hatred of all kinds. Racism is man's greatest threat to man-the maximum of hatred for the minimum of reason. Ask Adolf Hitler to expound on that theory.
Civil Rights, equality, women's rights, affordable health care and children's rights are all issues that have been important to most of us. America has traveled vast distances politically and socially since 1955 when Rosa Parks was arrested for standing up for herself on that infamous bus in Montgomery Alabama. As a nation we still have a long way to go, but we're so proud of how far we've come as Americans. It's vital that we always stand up for each other.
Education is the key to continued progress.Public elementary schools are wonderful places. Children from all walks of life learning together is a beautiful environment. We've been privileged to work with hundreds of thousands of kids around the United States and have observed varying teaching styles and regional flavors and, we've watched all different types of kids interacting together. We learned something early on -- we reaffirmed that we're all the same, no matter where we're from.
The Civil Rights Act of 1964, expressly banned discrimination based on race, color, religion, sex, or national origin in employment practices and ended unequal application of voter registration requirements and racial segregation in schools, at the workplace, and by public accommodations. The Voting Rights Act of 1965 that restored and protected voting rights for minorities. The Immigration and Nationality Services Act of 1965 removed racial and national barriers and opened the way for black immigrants from Africa and the Western Hemisphere. The Fair Housing Act of 1968 banned discrimination in the sale or rental of housing. African Americans re-entered politics in the South, and across the country young people were inspired to take action.
From folk icon Woody Guthrie to his son Arlo Guthrie we have long had a love affair with music that speaks to us. The music of the 60's generation was lyrically based and more about righting the wrongs of political and civil unrest and less about writing a commercial pop song . So many of the activists from the Civil Rights movement came out of Greenwich Village. The women's movement came out of the Village. The artists that came out of there historically had a real shot at ending up being more political. Greenwich Village was political before it was musical and there was a great sense of community when it came to the civil rights movement. Today in 2016 Arlo Guthrie is still as popular as ever. He packs concert halls wherever he and his fine band travel, as do so many of the Artists who started out in Greenwich Village over 50 years ago.
Earlier this year, when we were bursting with pride at the recent Supreme Court decisions we decided to write a positive song to show our support for those historic decisions. And FREEDOM was born.Our backgrounds as teachers came through, and we asked ourselves, "What hurts kids' feelings the most and makes them feel different?" The answer was obvious to us. "The identical things that hurt adults feelings and make them feel different. We're all the same however." Our diversity makes us interesting, debate makes us stronger but, equality permits us a level playing field.
We must keep pushing Civil Rights in a forward direction to allow FREEDOM to rain down on everyone. We must encourage young artists to express themselves in music and literature to document the current times and capture what it feels like, as young people, to watch our current unfolding history. Squelching their voices will only rob all of us of needed perspective to move forward. Our children truly are our future.
Regardless of whether you're right or left politically, no one ever wants to witness hatred and mistrust in our government. We've fought so hard in our lifetime to erase misogyny, racism and bigotry from our neighborhoods and our great country. Over 60,000,000 people died in World War 2. Over 1.4 million died in Vietnam. The cost, therefore can be much too high if we're not discerning about who we put into power. History has shown us this.
Just like those valiant folks from the Civil Rights Movement did in the 1960's, we must create our own civil resistance and non violent protests. At this moment in time we must support Dr. Jill Stein with her recount in Wisconsin, Michigan and Pennsylvania, if for no other reason than to assure ourselves that our recent election was conducted fairly and not rigged, as some have suggested. For the love of mike... What do we have to lose ?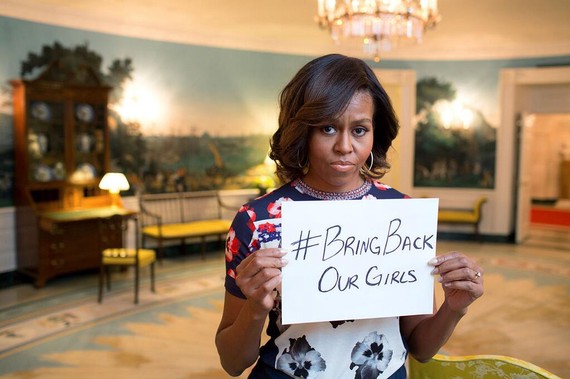 First Lady Michelle Obama campaigns to bring back school girls who'd been kidnapped in Nigeria