It's late March of 2001, and Houston, Texas is abuzz with the sound of motorcycles. For the first time ever, a four-stroke is leading the 125cc Western Regional Supercross series at the hands of Ernesto Fonseca, but that's not what is significant about this particular night. Blue smoke fills the air as the gate drops for the main event, and the usual suspects are up front. But by the time the white flag comes out, there is a new contender in the lead. South African transplant by way of a FIM 125cc World Championship, KTM's Grant Langston is out front and ready to take the checkers. Just one thing to do before completing the final lap: celebrate. Over a small double, Langston decides to do a little fist pump, Jersey-style. The pump is beautifully executed; the landing, not so much. Doh! The win would have been a first for both Grant and the Austrian manufacturer. Double doh!
Then the Fast by Ferracci Husqvarna CR125 of Travis Preston comes screaming by and he claims the first ever win for the Swedish-designed Italian motorcycle company instead. Bonus! Was the win a fluke? Pretty much. Not for Preston (he went on to win the championship the following year), but for Husky since any other time their bikes were seen that year, they were usually being pushed off the track. Would Langston's win have been a fluke if he'd made it to the finish line? Again, not so much for GL, but for KTM, whose machines were not quite considered SX worthy at that time.
Well, times they are a changing. Last Saturday marked a milestone for the boys in orange when Ryan Dungey captured KTM's first ever premier class win, at the second round of the Monster Energy Supercross Series in Phoenix. Why is this so significant? Because it is the first time in...I'll be honest, I have no idea (ask Motocross Action's Jody Weisel, he would know), but I'm going to go out on a limb and say it's been at least 30 years since anything other than a Honda, Kawasaki, Suzuki, or Yamaha won a Supercross race in the premier class.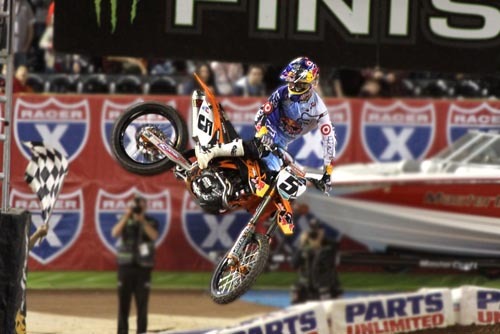 In the United States, KTM became a respected bike and team within the small-bore ranks several years ago. I'm walking out onto another limb here (this tree is beginning to feel unstable) by saying Langston actually helped get the ball rolling later in 2001 during the AMA Pro Motocross Nationals, when he became the first rider in the U.S. to vie for a national championship aboard a 125SX (yum, tastes like redemption). But KTM has long struggled to find a foothold among big-bore pro racers, and therefore, the trust of the American market. Lance Smail gave it his best effort back in 1997 aboard his KTM LC4 540SX, but that didn't convince too many buyers or racers. Heck, that bike looked down right scary. For a while, KTM didn't even field a premier class factory effort. Even hiring the likes of Mike Alessi to race the 450SX in 2007 and the 350SX in 2010 didn't do it. Mike did have some success, but it was entirely outdoors. No, they needed somebody who came with championship credentials and could take the bike indoors. More over, they needed a person to help guide the proper development of a potentially championship winning package. Enter Ryan Dungey and Roger De Coster.
The duo, more or less, kicked butt during their time together at factory Suzuki. As team manager, De Coster plucked Dungey out of the amateur ranks in 2006 and by 2009, Ryan began to deliver championships. The Minnesotan was pretty much unstoppable for two straight years, but when De Coster jumped ship to KTM for 2011, Dungey's titles ran dry. There was only one thing to do: pair up again.
Dungey's decision to go orange a few months ago seemed to shock the motocross community. But after Ryan's 2011 disappointments, a change of scenery and moving back in with The Man only made sense. On KTM's side, I have rarely heard of a company so focused on winning.
KTM has long been a go-to machine in the World MXGP's where they have numerous titles in all of the professional classes. But GP's are much different than Supercross, as are the riders competing, so the writing has long been on the wall that Katoom needed an all-new machine for the American market. Within the span of a few short months, the Austrian OEM designed, developed, raced, and is now manufacturing a brand new machine. What's more, the bike already has a professional AMA Supercross win to its credit. That is commitment.
On Dungey's end, his testing days are the stuff of legend, as he has been busting out 200-plus laps per day (that's more than 10 main event races) to ensure all of the "K's" are, umm, K'ed, "T's" crossed, and "M's" mmmm'ed. De Coster knew what he was getting by hiring Ryan, and his beliefs have already begun to pay off. The new Factory Edition 450 SX-F is a purpose built Supercross machine, and aside from the fact that KTM has an unprecedented four big-bore motocross machines available for 2012 (250 SX, 350 SX-F, 450 SX-F, and 450 SX-F FE), the new machine could very well prove to be Team Orange's ticket to the American public. Whether or not the production version will be a hit or not, there is no question about KTM's intentions: they want to become a household name in the States.
Can Dungey repeat this weekend? Not that he had it easy in Phoenix, but the likelihood of a similar scenario where James Stewart, Chad Reed, and Ryan Villopoto either get bad starts or crash is pretty low. Villopoto, especially, has been very quick and his ride in Arizona showed just how much he wants to go for Supercross Championship numero dos. One thing is for certain, though. Unlike Husqvarna 10 years ago (Preston's win remains their one and only in AMA Supercross), Dungey and KTM have proven they can put up a fight, and they're ready for a repeat.