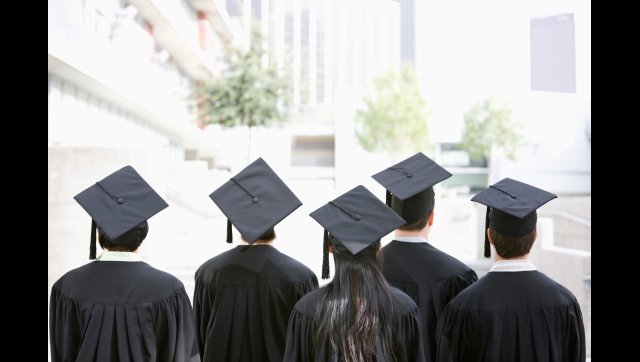 For a generation of students, the little sponge who lives in a pineapple under the sea represents childhood dreams and optimism for the future.
Spongebob Squarepants reminded students at the University of Vermont of these life lessons right before they were handed their tickets into adulthood -- college diplomas.
At UVM's commencement ceremonies May 20, students were surprised by the guest appearances of voice actors Tom Kenny and Bill Fagerbakke, respectively Spongebob Squarepants and Patrick Star on the popular children's television show.
Cyma Zarghami, president of Nickelodeon and UVM's commencement speaker, said she wanted to slime the 2012 graduates, but lamented that "the grownups said no."
Instead, Zarghami invited the actors on stage at the conclusion of her speech.
When Zarghami announced she had a surprise for the crowd, UVM graduate Megan Barros said students were at the edge of their seats with excitement.
"When people found out Cyma Zarghami was speaking, we were all joking about somebody getting slimed or a cartoon guest appearance, but I don't think we actually expected anything to happen," Barros said.
Kenny and Fagerbakke performed a short skit and rapped to the song "Graduation (Friends Forever)" by Vitamin C with a few of their own lyrics mixed in.
With references to UVM life and Burlington, such as Mount Mansfield, Lake Champlain, Mr. Mikes Pizza and Phish, Barros called the song touching and exciting.
"I'll probably forget what almost everyone said that day, so many people spoke, but I will never forget Spongebob and Patrick rapping at my graduation," she said. "It was like my childhood and my adulthood were coming full circle."
Graduate Amanda Burdick said she and the crowd of students around her were shocked when the actors took the stage.
Burdick went on to say that the performance was excellent comic relief, but it also had other messages.
"In [Zarghami's] speech she said the idea of Spongebob is that every day is the 'best day ever,' Burdick said. "Even with all the adversities in life, he, like our generation, is always optimistic and living in the moment.
"It certainly made sitting outside in the heat in long black robes worth it," she said.