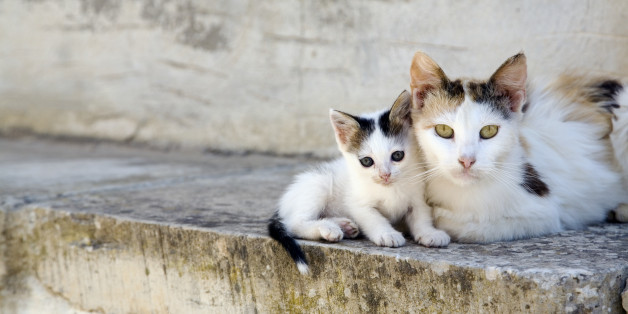 Most people have probably already strayed from their resolutions to make lasting changes in their lives in 2014. But the Kanawha/Charleston Humane Association in West Virginia knows the secret to sticking to your goals: Keep them out in the open for everyone to see. Just as some people share resolutions with friends for accountability, the shelter now lists its annual, monthly and weekly adoption goals -- and how close it is to reaching them -- on a board visible to everyone who walks through the door.
That's one reason why Alley Cat Allies chose Kanawha/Charleston Humane Association for our new grant program, the Future Five: Shelter Partners to Save Cats' Lives, which aims to develop five model shelters. We awarded five shelters with $5,000 each to help launch lifesaving programs to meet their goals -- significantly increasing the number of live releases for animals that enter their doors. Each shelter also receives one year of customized guidance and resources from our staff.
The Future Five program supports shelters as they make high-impact changes that increase their lifesaving capacity. The selected shelters demonstrate a commitment to saving animals' lives and have already made progress by rewriting ineffective policies and making other forward-thinking changes. The shelters have all committed to a Feral Cat Protection Policy. This means they have stopped impounding and killing feral cats ,and now only accept feral cats into their program to neuter and vaccinate them, and then return them to where they were trapped -- their outdoor home.
Stanislaus County Animal Services in Modesto, California recently started a Trap-Neuter-Return (TNR) program and encourages residents to help by humanely trapping feral cats and bringing them to the shelter to be spayed/neutered, vaccinated and ear-tipped -- the tip of the left ear is removed while the cat is anesthetized to identify the cat as neutered and vaccinated. After a short recovery period they are returned to their outdoor homes. Bay Minette City Shelter in Alabama hopes that, with the one-on-one support provided through the Future Five program, it can improve how the community views feral cats -- and animal control officers. A shelter in Franklin, Indiana, Johnson County Animal Shelter, and its partner the Humane Society of Johnson County are committed to educating their entire community about TNR, and the Future Five program will help make this happen. Lee County Domestic Animal Services in Fort Myers, Florida has been carrying out TNR for four years -- but is ready to ramp up its work and improve its save rates for adoptable cats.
When shelters stop the ineffective cycle of impounding and euthanizing (i.e., killing) feral cats, and instead support TNR, they almost immediately see the benefits. By humanely ending the breeding cycle and mating behaviors, TNR allows the cats and community members to coexist, and colonies to decrease in size over time through natural attrition. Shelters have fewer animals coming through their doors, more resources to invest in innovative programs to save adoptable animals, and more community members willing to share their time and money to support the shelter.
Currently, most animal shelters still impound feral cats even though they are not socialized to people and have almost no chance of making it out of a shelter alive. This policy causes shelters to be overcrowded, millions of healthy cats to be killed and valuable resources to be wasted.
There's good news though. As TNR makes headway in animal control agencies and shelters nationwide, more shelters are interested in learning how to protect cats in their own communities. That's where Alley Cat Allies' Future Five program comes in.
The Future Five program won't just impact the five shelter partners -- it will help shelters nationwide make similar changes to save the lives of animals. The program will fulfill the need for step-by-step models for transformation that shelters can follow even if, like the Future Five shelters, they have limited funds and face challenges. The five shelters chosen include rural and urban areas and serve large and small populations, and each represents a different shelter structure. This range will allow Alley Cat Allies to create five different models of shelter transformation.
If shelters are armed with the right tools and blueprints, they can build safe communities for cats. Alley Cat Allies' Future Five program will provide shelters interested in transforming their practices with new resources to help them jump in, make change happen, and protect the lives of animals living in their communities.
Becky Robinson is the President and Founder of Alley Cat Allies, the only national advocacy organization dedicated to the protection and humane treatment of cats.