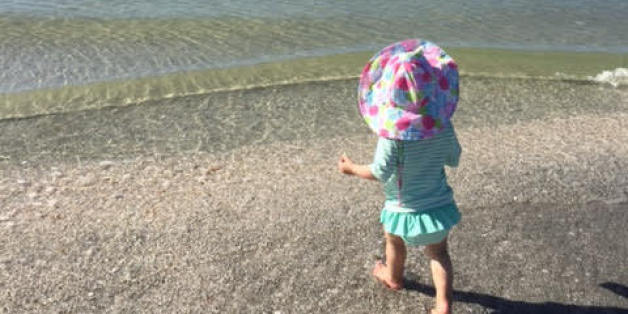 Dear Daughter:
I can't believe you are turning 2 today.
These are my wishes for you as you continue to grow up and become your own woman in this magnificent world.
May you always be so proud of your body -- pointing out your beautiful belly and happy to see your reflection in the mirror. You only get one body, so continue to love it.
I hope you always express your emotions in the same way -- laughing out when you are joyous and allowing yourself to cry when you are sad. Feel it all and let it out!
Keep letting things roll off your shoulders. As you know, most of the time the stuff we get upset about doesn't really matter at all. You remind me to let the little things go too.
May you always find such wonder in our captivating world. Continue to exclaim "wow" when you witness something exciting. Our earth is full of beauty, and I hope you always see it the way that you do now.
Keep asking for help when you need it. I know it's not easy to always seek assistance, but it's important to be able to ask for support. Even if I seem annoyed when I hear your little voice say "Mommy, help?" for the tenth time in a row, I still want you to ask. It is brave to ask for help.
Continue to work on sharing, because it is the key to connection with family, friends and your significant other. I know it's not easy, but I see how you try to share with other kids. Keep working at it.
Please never stop smiling at strangers and saying "hi." You never know when it will make someone's day.
Continue to enjoy the outdoors. I see how the fresh air wakes you up and the sunshine makes you smile. Never forget that feeling.
There's a part of me that hopes you are always so wild and free. I wish for you to always be just a little bit different, because there's not enough people like you in the world.
Continue to devour books the way you do now. Get lost in them. There nothing quite like a good story.
During those many moments of the day when you ignore what I tell you, looking at me your defiant little eyes, there's a part of me that wants to tell you to always to stand up for yourself like this. Keep using your voice to express your desires. Always ask for what you want; this is the only way that you will get it.
Please continue to believe in magic.Our world is full of it and I know that you find it every day in the tiny beautiful moments we share. Never stop believing.
I love you. Happy birthday. I celebrate your beautiful little soul today, and every day. Keep shining your light.
Love, Mommy