The voicemail from my realtor said it all: the seller was stressed. He was stressed over what to do with all his belongings he had collected over the past 30 years: stacks and stacks of magazines, boxes of dishware, piles of empty blank canvases (he was an acclaimed artist) and the typical bric-and-brac. So I called him and said, "If you want to lock the door today and leave everything behind, I'm OK with that." I figured, why not? It would be fun to go through decades worth of old papers and rummage for a vintage find or two in the piles of, well, stuff.
My treasure hunting soon turned to dismay the day I unlocked the door to the house. Other than a few casserole dishes and some vintage typography books, I was left with junk.
HOUSEHOLD HAZARDOUS WASTE (HHW)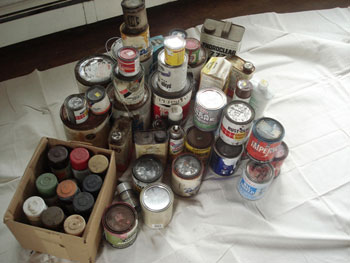 In the basement were piles of household hazardous waste (HHW): old paint, cleaning products, varnishes, stains, and mini cans of spray paint. It is illegal to simply bag up all these toxic products and throw them into the trash. In municipalities across America, it is required HHW be dropped off at designated collection sites where it is properly disposed of. HHW that somehow ends up in our landfills can leak and cause contamination to our soil and water supply.
My first step was supposed to be the easiest. I went to earth911.org and typed in my zip code and searched "HHW." There was a drop-off location just 1 mile away from my home that took HHW every Saturday from 9-1pm. The address took me to a public school. Correction: A closed school with no sign of collection boxes. When a security guard quickly ran up to my car and inquired why I was "prowling" a schoolyard, I had to go into a panicky explanation about the proper disposal of HHW.
Turns out Earth911 failed to mention the seasonality of the collection point; it was closed during the winter. But a quick call to my local municipality office turned up other drop-off sites so I could easily do the right thing. HHW? Check.
FREECYCLING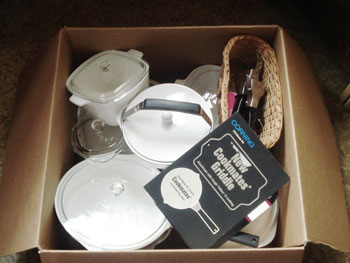 I've been a proponent of the website FreeCycle for a long time; it's like a version of Ebay, but without money exchanging hands. Basically, if you have something you need to get rid of---a TV, a box of books, old clothes, whatever---people who need it contact you and pick it up. They really should call it FreeBay.
It's very simple to use FreeCycle: You join your local community group based on zip code. You post a listing and people email you directly if they want what you have to give. You choose the recipient based on the emails (usually I choose the first one who responds) and you arrange for them to come and pick it up.
I have used FreeCycle to get rid of bulky items like mattresses and furniture. Today, I posted about a box of vintage oven-safe cooktop and baking dishes. Within minutes, I had plenty of takers. Done.
ARTIFACT
As a magazine editor, I have ranted for a long time about my distaste of pre-framed artwork. Nobody is fooled by pre-framed Monet lilies or Picasso portraits in tacky brass frames. Art doesn't have to be fictitious and it doesn't have to be expensive. You can find interesting treasures throughout your home that can become beautiful and meaningful art. In the past, I've framed vintage American flags, takeout food menus and blueprints to the homes I've lived in. This home is no different.
I found this vintage sign rolled up in the artist studio with a note "For Danny." It reads, "33rd Annual Dark Hollow Road Marching and Trash Picking Society." For 33 years, the local residents cleaned up the streets to keep it as pristine as possible. I loved the wear and look of this sign and intend to create a 3-d glass frame for it and hang it proudly in the studio. Everyday, I'm finding vintage prints, blueprints and even old packaging that I think all makes for interesting art.
REFURBISH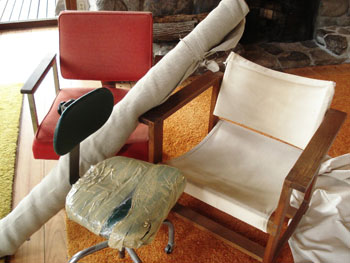 These old chairs are beautifully designed and have years of use that looks well-loved. We sometimes forget that the three R's---Reduce, Reuse, Recycle---should really include one more R for Repair. A local upholstery shop can easily reupholster these chairs for very little money; the estimate I got to have all three chairs custom reupholstered was just $230. I have a giant roll of neutral hemp fabric that I think will do the trick to make them look refreshed and give the grouping cohesiveness.
JUNK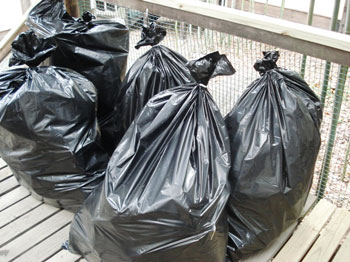 And finally, the trash cans are meant for just that. If you can't Donate, Recycle, Artifact, Give or Sell (it's my acronym DRAGS that I use) an item, dump it. That's what the trash is for and it's OK to throw it away. A plastic step ladder that collapses each time you step on it? Junk.
Contact Us With Stories, Tips, or Questions