My name is Beenish Kanwal. I live in Peshawar, in Pakistan's northwest. The area has been plagued by conflict for decades, and the past ten years have been especially violent. The fighting targets innocent civilians, destroys jobs and leaves communities vulnerable to poverty and more violence.
One beautiful day this spring, I woke my husband for work but never imagined it would be the last time I would see him. An hour after we learned a massive bomb had killed 11 and injured 50, I was informed that my husband was among the dead. I have three children, two girls and a boy. They still do not fully understand that their father has left us forever.
My husband was the only breadwinner in the family. Losing him didn't only mean that my children were fatherless, it also meant we could no longer afford to live with dignity. The biggest burden after his passing was ensuring that my children continued their education. I had no one to rely on, no skills, and no capital to start even a small business. Life was hard, but what kept me going was my determination to give my children opportunities their father and I never had.
I am a simple woman. I didn't finish school. But I believe the real causes of conflict, in Pakistan and everywhere, are ignorance and poverty. If I had 1,000 rupees and the choice to either feed my children or educate them, I would have to feed them. But they would end up uneducated and open to wrongdoing and exploitation. If I don't educate my children, they will become part of the problem and not the solution. If I can't educate my girls, they may be forced into early marriage. If my son suffers the humiliation of poverty, he may resort to violence.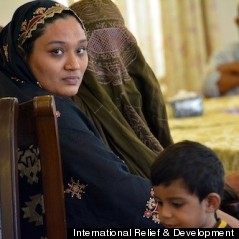 I want to tell the world that need makes people do wrong things. Those helping us should try to understand our needs and respond with realistic solutions. I also want the world to know that covering these needs superficially is not what we want. We don't want to live off handouts. We want the means to put a decent roof over our children's heads and to enable them to do the same for themselves and their families when they grow up.
With my own determination and help from the Conflict Victims Support Program, I am now earning my own income, giving my children a better life now, and preparing them with the tools they'll need to make better lives for themselves in the future. I wish we had programs like this for everyone who is affected by conflict. I was lucky to find this program, but there are thousands of women like me who are struggling to feed their children, let alone educate them.
Many of the children we see on the streets of Peshawar come from homes broken by poverty. Poverty makes people shortsighted and vulnerable to exploitation. Militants in Pakistan know this, and are afraid of education and the prosperity it brings.
The Conflict Victims Support Program helped me understand that my family's needs are holistic. When I first learned about the program, I asked for cash compensation. But what I really needed was to stop worrying about shelter and food in order to send my children to school. The program offered my children scholarships and helped me open my tailoring business that supplies me with a steady income. I understand that the scholarship and the small business support will do much more to address the roots of my and my community's problems.
This post is part of a series produced by The Huffington Post and the NGO alliance InterAction around the United Nations General Assembly's 68th session and its general debate on the Millennium Development Goals (MDGs), "Post-2015 Development Agenda: Setting the Stage" (September 24-October 2, 2013). The session will feature world leaders discussing progress made on the MDGs and what should replace them when they expire in 2015. To read all the posts in the series, click here; to follow the conversation on Twitter, find the hashtag #No1Behind. For more information about InterAction, click here.