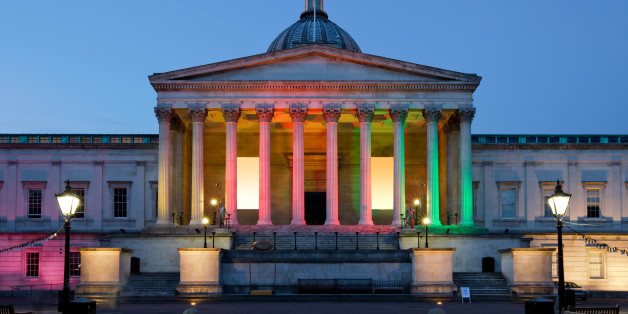 Co-authored by GLSEN Student Ambassadors Peter Finucane-Terlop, Bek Jakola, Mark Pino, and Nick Wilkins.
Straight ahead is Duke's blue, to your right is Rutgers' scarlet, and to your left is Ohio's hunter green. The colors at a college fair blend together to form a rainbow, and though the possibilities are limitless, you can't always tell which schools will suit you.
As you start to learn about the schools, questions arise. How's this school's engineering program? Is the food good? How vibrant is their Greek life? Which schools are offering the biggest scholarships? Which ones offer the major I've had my heart set on for years?
Choosing the school that's right for you is never easy, but it's especially hard when you're an LGBTQ student. The questions you have to ask multiply. First and foremost, is this school safe? Is there an LGBTQ community that I can be a part of? If I go on a date with someone, will I face discrimination, insults or even violence in the neighborhood? Are there gender-neutral restrooms? Enumerated anti-harassment policies?
LGBTQ students have to ask not only the standard questions about academics and student life at a college, but also the questions that will weed out schools that won't be inclusive of students like us. Many LGBTQ students face bullying, harassment and discrimination during their high school years, and college is our chance to finally find a community of our own.
We need schools that will let us dress in ways that match our gender identities.
We need schools that will call us by the right names and pronouns.
We need schools that have bathrooms we feel safe in.
We need schools that will let us be in love.
We need schools that are supportive and accepting.
As you can imagine, these things can be hard to find out. Even the most inclusive schools likely won't have information about their bathrooms on their website, and few advertise being a safe haven for LGBTQ students. When visiting a school, we can ask how dorm assignments work, what the campus environment is like, and if there are any LGBTQ groups on campus. But what do you do when you can't visit the schools in person, to really tell if you'll belong?
We recommend checking out organizations like Campus Pride, whose index of LGBTQ-friendly colleges is an invaluable tool for students beginning their search. By checking different schools' ratings on LGBTQ-inclusive policies, student life, housing and residence life, and safety, we can start making our own lists of accepting and supportive schools that also fit our other college needs.
If you learn that a school has an LGBTQ group, you may want to reach out to its leaders to see how active their group is, how many members they have, and how prominent the group is on campus. Gender and Sexuality Studies professors can also be helpful in narrowing down your search. They can answer any questions you have about LGBTQ-inclusive curriculum at the school.
We've done these things -- or we're planning on it. But wouldn't it be easier to talk to representatives from all of the schools you dream of, and to real college students, about the Big Questions that YOU have?
College fairs are about doing just that. We encourage LGBTQ students who are going through this process to participate in GLSEN and Campus Pride's LGBTQ-Friendly Online College Fair on March 19, where we'll have a chance to interact live with college representatives and students who can answer all our questions. This College Fair is for students like us--students like you. For those of us who want to feel safe in college, and who have legitimate reasons to believe we won't be safe everywhere. For those of us who want college to be the best time of our lives, and who are trying to ensure the school we end up attending will allow us to truly be ourselves.