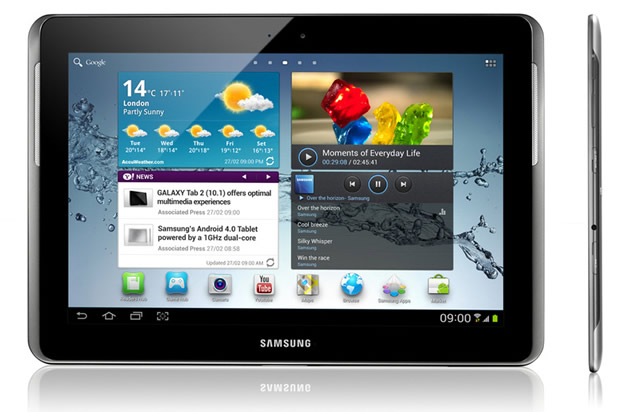 Tablets are exciting, there's no doubt about that. Everyone wants one and, supposedly, 50 million people have one. So, when the Samsung Galaxy Tab 2 (10.1) arrived on my desk, I ripped it open, didn't I? Well, not quite. I almost forgot about it amongst the morning to-do list and it lay there, rejected and, quite frankly, in my way. Why did I neglect it for so long? Answer: The packaging, it just isn't very exciting. I don't look at it and want to rip it open like a hidden Christmas present discovered on boxing day. In fact, it shares a lot in common with that hidden Christmas present because it remains unopened on my desk for a good couple of hours whilst I get on with other, more important things. Of course, I'm not saying electronics have to be boxed and bowed and sparkly for me to give it attention, but a little effort will never go amiss.
My ungrateful air ends there though because when I finally got around to opening it I was sorry I left it so long. It's lightweight and sleek, and I find myself just picking it up, twisting it around, swiping between screens and just marveling and how fast and fun it is. Fifteen minutes pass (I know, I'm easily amused) before I go to set up Facebook and Twitter and all the other day-to-day things that make a tablet worth having, and I'm helped along by S Suggest -- a feature that compiles a suggestion of popular apps that gradually tailors itself to what you regularly like and use. Helpful. Instead of manually typing in all the apps I want, they're all there at the tap of my finger to download within seconds from the Play Store. This takes a further 15 minutes away from me as I spend ages browsing all the apps on offer.
Because it's so light (just 518g), the Tab 2 (10.1) can easily be flipped portrait and meaning you can use the keyboard with both hands, but it's not light enough to hold like that for prolonged periods of time. If you're wanting to use it in place of an e-reader, you're better off with the Kindle, though the elegant design of the Readers Hub cannot be denied.
The display is 10.1" and high-resolution, allowing for great visuals on games, whilst watching films and TV, courtesy of the Video Hub, is a pleasure. Furthermore, the Music Hub is a great alternative to the ubiquitous iTunes, allowing you to download and listen to music, as well as create playlists on the move. The tablet can be unlocked from anywhere on the screen which is somewhat superior and easier than Apple's bottom swipe placement.
It has the same annoying predictive text feature as all androids, and yet, perhaps due to size, its presence on the tablet isn't nearly so annoying as on the phones. I still believe that, with a fully functional Qwerty keyboard, I don't need something to predict what I'm trying to say, but it's true what they say about love being blind, I stop caring after a while.
The camera is only 3mp compared to 5mp for the new iPad which, considering that the Samsung is more expensive than the iPad 3, is disappointing. The tablet also shows a red X through the charge symbol when it's plugged in but on, seemingly only deigning to charge itself like a human, when it's switched off.
All in all, though, the Samsung Tab 2 (10.1) is an enjoyable gadget. The longer I played around with it, the more I got used to its little quirks, and something. I loved getting it out on my commute to play with, I used it throughout the day at the office for my emails and social media, and I even watched TV on it when I got home. It is definitely the number one alternative to the iPad out there, and I think I'm sold!
Follow us on Twitter @LadyGeekTV
Read more about what we do
Be part of our community on Facebook
Follow Belinda Parmar on Twitter: @belindaparmar