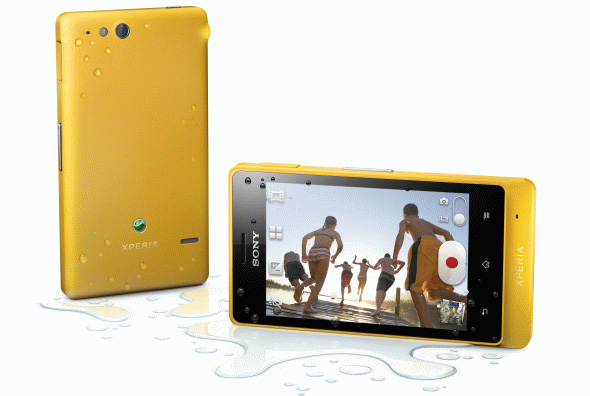 It seems that these days every phone manufacturer out there is under the impression that bigger is better. HTC's One X and Samsung Galaxy SIII's dimensions dwarf most hands, and we live in an age where the Kindle (the size of your average paperback) is marketed as being 'pocket-sized', so it's a relief to see something that actually will fit in the palm of your hand, let alone your pocket.
The Sony Xperia Go is, quite literally, a small wonder. My marigold marvel arrived in a sleek square box with bright yellow edging, and was packaged neatly and carefully in the top compartment. Opening it felt like rooting through carefully arranged drawers for hidden household treasure: familiar and fulfilling. The scratch-resistant screen is soft and the sensitivity of the touch screen means that the tiny keypad isn't compromised by large ungainly fingers.
The phone's Friends feed integrates seamlessly with Facebook, calling up the latest updates from your 'favourite' friends on the Timescape feature. The messaging service is simple but functional, calling up texts in a conversational style; and the keyboard is small but usable, with popular punctuation sitting above for ease of access. It still has android's annoying predictive text -- something I don't see the point of when you have a full qwerty keyboard at your disposal -- but the Sony Xperia Go is that remarkable thing that you don't see too often these days: a phone which is trying to be a phone, rather than a phone which is trying to be a computer.
The camera is a nifty 5 mega pixels with zoom and flash, and has the options to take a sweep and 3D panorama, as well as a 3D sweep multi-angle photo. The sweep panorama is a brilliant little option that perfectly recreates what you're trying to capture without any awkward stitch lines.
It's so easy to use, I don't have to look at the manual once, and anything I could possibly want a phone to do is at the tips of my fingers. I don't think I'll ever get used to the annoying vibrations attached to the keyboard and home buttons that android is so hot on, but it's a small price to pay for a phone that does what it says on the tin.
The Xperia Go is built to last: water, scratch, and dust-resistant, it's the perfect phone for those of us who are a little more clumsy than careful, and the slim, small size reminds me of days of yore when phones didn't have to be big and brash to be good.
Follow us on Twitter @LadyGeekTV
Read more about what we do
Be part of our community on Facebook
Follow Belinda Parmar on Twitter: @belindaparmar