We have a strict policy at SeeClickFix that myself and my full-time co-founders can not donate to local politicians. SeeClickFix is a city contractor, and although we're allowed to donate by law, I feel that it is unethical to contribute to the campaigns of those who may decide whether or not you get paid someday.
I've had a number of conversations recently with city contractors who do play the donation game and their reason for playing is completely rational. They won't say that the donation is a straight transaction where they put money in and it's guaranteed that money comes out. That's illegal. They will tell you that they think it is more likely that money will come out if they put money in. These are people who feel that their businesses depends on this game, and as long as it's legal, money coming out means food on the table for their families. In one case I talked to an out-of-town city contractor who strongly disagrees with the candidate he/she is donating to because of the recipients position on city pensions. But the donor also admits that the city's financial picture will not effect them personally as the donor is not a New Haven resident. At the end of the day I believe that most people playing the game are playing because family comes before community and it's nothing more than a personal security decision. I get that. My family comes before community as well but I'm going to fight to keep perspective on where one is actually jeopardizing the other.
As money in politics is something I am clearly passionate about, I took the time this last week to look at the data from New Haven's mayoral election as gathered from the most recent SEEC filings by all four candidates. All candidates are required to submit receipts for donations to their campaigns. There were three boxes on these forms that I was interested in tallying. The boxes are as follows and are required to be answered with a Yes or No.
1) Is contributor a lobbyist, spouse, or dependent child of a lobbyist?
2) If contribution is in excess of $400 to a candidate committee for a chief executive officer of a municipality does contributor or business he/she associated with have a contract with said municipality valued at more than $5,000?
3) Is contributor a principal of state contractor or prospective state contractor?
To get the data Hall of Records provided me with all of the SEEC Form 20 for July 1 - September 1.
Last week I put out a call on Twitter and Facebook for someone who would check my counts. Brad Armstrong, a neighbor, agreed to come down and help count the filings with me. At the last minute I realized that the town clerk forgot to give me the July filings for the Elicker campaign. Fortunately the State Election Enforcement Committee posts the filings of those participating in the democracy fund on-line. For the Elicker campaign's July SEEC Form20 filing I counted on-line and my wife Kati did the double check.
To follow is the number of contributions to New Haven mayoral campaigns between July 1 and September 2013 where the lobbyist, contractor boxes or both were checked "Yes."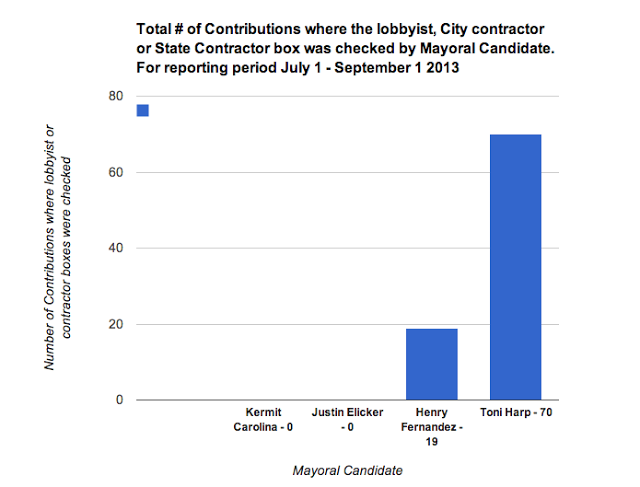 The primary was last Tuesday in New Haven and there are two candidates left in the race. As we go into the general it will be interesting to how the one remaining Democracy fund candidate holds up against the candidate financed largely by city contractors and lobbyists. In many ways New Haven's mayoral race represents much of what is happening around this country in largely democratic cities. Independents are regaining a voice and citizens are asking for elections clean of big money even its from organizations that progressives traditionally empathize with.
What are you seeing in your city?