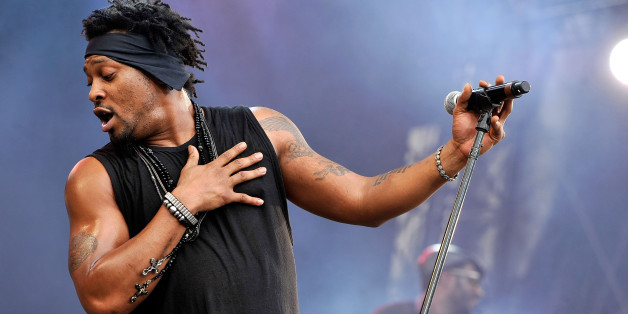 Buried amid the acknowledgments of his 2013 memoir, Questlove, of the Roots, wrote "D: I pray this album comes out before my twentieth book." His sentiments echoed the feelings of a great swath of music fans. Those words marked 13 years since D'Angelo released his sophomore studio effort, Voodoo. His first, Brown Sugar, was a great R&B album, but what was released in January 2000 was, and remains, a masterpiece.
An artist who had released one of the most memorable videos amid the height of the MTV-era had seemingly disappeared. Unusual hardly describes it. Over the last decade-plus the news was sporadic. For every negative news story (or mugshot) there were fans ready to spread the legend. Don't worry, D was simply in seclusion becoming a guitar virtuoso.
Questlove is not only a close creative partner, but also the undisputed number one D'Angelo fan. So when he promised that the follow-up to Voodoo would be released in 2014, you wanted to believe him. But were these the words of the guy who was in the studio, or just another admirer who refused to give up hope? There were reasons to believe -- public appearances and concert tour dates opening for Mary J. Blige and a smattering of other shows. But just as the reasonable person spends a limited amount of time questioning the existence of intelligent lifeforms on other planets, one cannot and should not worry about the Voodoo follow-up. It's waste of time.
Until now.
A 15-second video posted Thursday, went viral Friday. A link to a listening party on Sunday, in New York, went live. Traced back to official channels, there was a reason to believe. On Sunday, we had our first song: "Sugah Daddy." The song's strength is not in its free-flowing bordering of stream of consciousness lyrics. For the uninitiated, it may appeal as a tight upbeat R&B track with a clear funk lineage. For those who have been slogging out the last 14 D'Angelo-less years, the unique level of tightness in the instrumentation and vocal arrangement is for what we have been waiting. Think of it more as five minute announcement: I still got it.
Midnight strikes. It's December 15. The wait is over.
A distant siren-like sound, a thick bass line, a soulful chorus -- Black Messiah begins. We pick up where we left off.
The album as whole is a distinctly D'Angelo update on a sound we already knew ran through his veins. In 1969, building on their previous accomplishments, Sly and the Family Stone's Stand! opened the door to what a politically and socially aware album could be. An honest reflection and amplification of a unified group of people did not have to be limited to a march or the church -- it could soundtrack a party. If "Till It's Done (Tutu)" could have found its way on to Stand! then "The Charade" would most likely have been on Sly's 1971, There's a Riot Going On -- an unwavering message delivered through a woozy haze. "All we wanted was a chance to talk / 'stead we've only got outlined in chalk." There's a Riot Going On showed that the political and the personal were not mutually exclusive. One could wrestle with the demons who roam our minds and the evil forces who oppress and repress our neighbors on the same record.
Black Messiah is a marriage of those two albums and concepts -- a demonstration of what emerges when one further explores the similarities of our internal and external struggles.
Even on the light and relatively upbeat tracks "Really Love" and "Betray My Heart," tender language is used as much to affirm the object of D'Angelo's affection, as much as the words are needed to fortify and self-affirm.
At other points, there isn't much room to move. "1,000 Deaths" updates the unsettling and effectively and aggressively off-kilter groove of Funkadelic's, America Eats Its Young. Not surprisingly, Kendra Foster, of current incarnations of Parliament, and D'Angelo's touring band, appears in the writing credits of Black Messiah.
"Black Messiah is a hell of a name for an album," begins the introduction handed to those in attendance at Sunday's listening party. Without surprise, an album that will forever be tied to its release date, D'Angelo writes first that the title is about "all of us," before getting specific. "It's about people rising up in Ferguson and in Egypt and in Occupy Wall Street and in every place where community has had enough and decides to make change happen."

The diversity of sound on Black Messiah is representative of our reasons to assemble. There is a voice and a feeling -- anger, discomfort, paranoia, joy, love, uncertainty -- on the album for every united population from New York to Cairo to Hong Kong, and back.