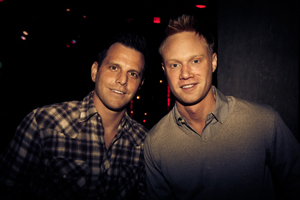 The Six Pack is a new-school, cutting-edge radio show hosted by DJ Ben Harvey and comedian Dave Rubin. Distributed online and on SiriusXM, the show gives you a weekly dose of hot topics, celebrity guests, and brand new music, all packaged in six convenient parts. Ben and Dave take you on a journey through what's trending now, from news to views to dudes. Previous guests include Joy Behar, Andy Cohen, Fran Drescher, Steve-O, Congressman Barney Frank and many more.
Currently in its third year, The Six Pack is one of the top comedy podcasts on iTunes, with listenership in over 70 countries. Huffington Post Gay Voices will regularly feature episodes of The Six Pack.
Episode #82: "Moving Merchandise"
LISTEN: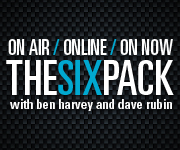 High Pitch Mike of SiriusXM's Howard Stern Show joins us for an all-in-the family episode of The Six Pack. Mike talks about what it was like to come out live on air to Howard, millions of listeners, and the whole cast and crew.
"I came out three years ago, I emailed Howard, and I said I want to do it publicly, I don't care anymore," Mike says of his coming out on the Howard Stern Show. "I was afraid, like many people are afraid, not to embrace that I'm gay, but the way people react." He also dives into the infamous fight with Artie Lange: "At one point he went on a rant, that I kind of pushed him, too, and I said some ugly things back to him," Mike tells us. "I was accusing him of being on drugs, he was accusing me of being gay... and both of those were true."
Catch The Six Pack Saturdays on SiriusXM OutQ channel 108 from 1 to 3 p.m. EST and as a weekly podcast on iTunes, sixpackage.com, and now... Huffington Post Gay Voices! Listen to the entire podcast episode here.