The drama that was the MLB off-season and Winter Meetings led to some huge moves across the league. If you haven't been following, here is a quick breakdown of the top moves of the 2011 MLB off-season:
The Boston Red Sox spent a ton of money on acquiring Carl Crawford and Adrian Gonzalez
Cliff Lee ditched the New York Yankees, surprising fans and analysts alike and signed with the Philadelphia Phillies to fill out potentially one of the best starting rotations baseball has ever seen
The Milwaukee Brewers picked up Zack Greinke
The Chicago Cubs added Matt Garza to their rotation
Each of these teams have improved significantly in the off-season so it would be expected that their ticket prices would have the highest relative increases in comparison to their 2010 ticket prices. Well, it is a little surprising, but none of these teams even crack the top 5.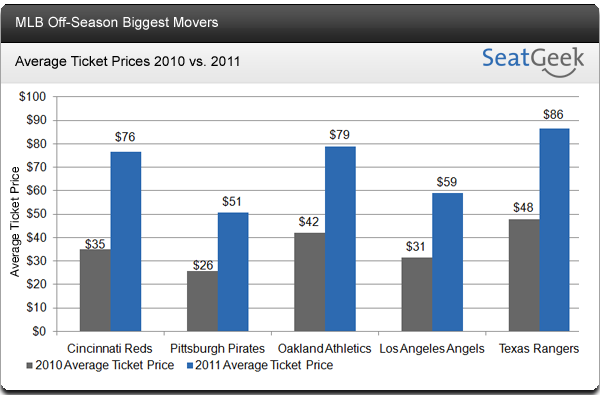 The Milwaukee Brewers come in at #6 on the list with a 77 percent increase in ticket prices from 2010 to 2011.
Boston Red Sox tickets still maintain the top spot in baseball at $115 per ticket in 2011 compared to $82 in 2010. This is a large move in absolute terms ($32), but it is only a 38 percent increase, which puts Boston at #17 on the list.
Coming in at #1 is the Big Red Machine, the Cincinnati Reds tickets have had the largest relative and absolute increase in ticket price from 2010 to 2011 (+118%, $41.50). The top five biggest movers by percentage change include the Reds, Pirates, Athletics, Angels and the Rangers.
Let us know what you think about the MLB off-season moves, and what team you're rooting for in the comments.
SeatGeek is a data-driven ticket search engine that helps fans discover the best prices for sports, concert, and theater events.