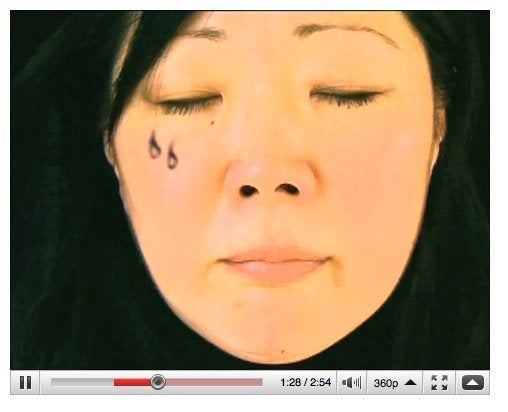 One of the most surprising and unexpected turns in my career has been my recent collaboration with the comedian Margaret Cho.
I saw Margaret live in concert in New York sometime in the 1990s and was blown away but her taboo-crushing and politically charged performance. That tour was called the "Notorious C.H.O" tour, and the stage set and intro music was full of ultra-macho-gangsta-rap references. It worked amazingly. Margaret posing as some kind of Biggie/Puffy/Tupac archetype while she discussed gender-bending sexuality and imitated her Korean parents, created a brilliant juxtaposition. She also seemed a genuine fan of the swaggering hip hop behemoths she was parodying, which kept the tone sincere instead of cynical.
So I was surprised to first meet Margaret in 2003 backstage at a Neil Finn concert at the House of Blues on Sunset Blvd. Margaret introduced herself and shocked me by displaying her familiarity with my early lo-fi pop records. She told me Neil was her favorite songwriter in the world, and Split Enz her absolute favorite band. To say this seemed an odd fit with her on-stage persona is an understatement. While her performance style can be abrasive, hyper-sexual and domineering, her personal taste in music leans towards the sensitive, introspective and tender.
When I heard Margaret was making her own music last year, I reached out to her and said I'd love to be involved. She responded positively, and over the following months we wrote some songs together. She asked me to produce a handful of the tracks she had written with other artists like Patti Griffin and Carl Newman (New Pornographers) at my home studio in Laurel Canyon.
The process of working with Margaret has been a complete revelation and joy for me. She started learning guitar at age 40 after seeing Madonna play guitar and thinking, "If that bitch can do it, it can't be that hard." It's this punk-rock enthusiasm that has informed every step of the writing and recording process.
The songs deal with all sorts of bizarre and wonderful subject matter: surviving a lice infestation ("Lice"), losing your favorite pet ("Hey Big Dog"), Jesus's sexual preferences ("Jesus Was a Power Bottom"), genitalia ("Your Dick") and drugs ("Calling in Stoned"). The lyrics are irreverent, confrontational and very, very funny. She has brought together amazing guests like Tegan and Sara, Jon Brion, Ani DiFranco, Tommy Chong and Fiona Apple. She has crafted an album, due in August, that is full of power, humor and contradiction - just like Margaret herself.
But the most powerful moment working with Margaret happened just last week. At the eleventh hour of the recording process, Margaret texted me early one morning saying she had an idea for one final song on the album: it would be about the rapper Lil Wayne. We had been talking about Lil Wayne constantly throughout the album sessions, as he was about to head into prison for gun possession. Margaret felt the album would not be complete without a tribute to the eccentric rapper.
She told me she wanted it to feel like (for reasons that are probably only truly understood by her) "Fast Car" by Tracy Chapman. I threw some chords together that morning. She wrote her lyrics. The next day we recorded the track "My Lil Wayne," and later that afternoon my wife, Ione Skye, was helping Margaret shoot the video in our living room. Where 24 hours before there had been nothing, there was now a song and a video, both full of the humor and pathos needed to tackle a subject matter as beautiful and bizarre as Lil Wayne. The fast-as-lightning process of this song coming into existence seemed to embody Margaret's unique ability to instantly manifest her creative vision.
I love the song. It's one of my favorite things we did. It's hilarious of course, but also melancholy and full of compassion. It seems to sum up everything that is intuitive and fearless about Margaret Cho. There is no one else like her.
It's been an honor to work on these songs.
Watch the YouTube video HERE.
Download the song free from her web site HERE until March 20th.