Of all the videos we watch online every day, most of them we probably forget about after 10 minutes. But some leave a more lasting impression. This video begins with a woman holding a photo of two young men. She begins to tell her story. When her two sons were 19 and 16, they went to a party near their home. The mother heard gunfire. By the time she reached the street where they were, her elder son was already dead; the younger son was taken to hospital where he died the following day.
Mexico is an extremely violent country. The homicide rate is four times higher than in the US, and 27 times higher than in Germany. There are different theories about why this is -- some people have told me that the bloody civil war in 1910-1920 imprinted a strain of violence deep into the culture. But there is also a more immediately obvious reason: the drug trade.
In the past decade, an estimated 120,000 people have lost their lives in the "war on drugs". The police fight with the cartels who smuggle cocaine and other drugs into the US from South America -- and the cartels fight one another. In many parts, violence has become a fact of everyday life.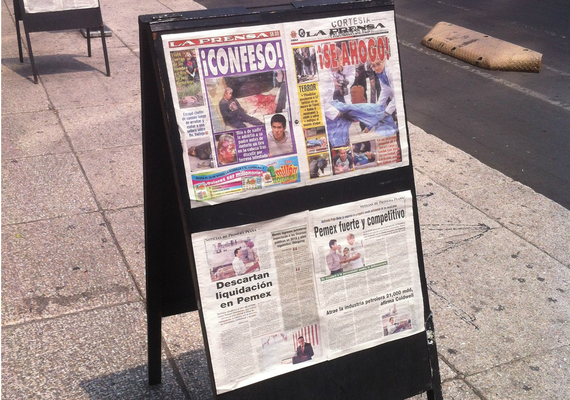 In Mexico City, where I have been researching, even though it is comparatively safe, there are still constant reminders: most days the front pages of newspapers carry graphic photos of victims killed and injured, which US newspapers would never print. The public is so used to this, they glance at it, with a sad sigh perhaps, and continue with what they were doing.
Project against indifference
Documentary project Geografía del Dolor (Geography of Grief) aims to counteract this pessimistic indifference. A group of friends decided to make films of the families of victims, letting them tell their stories. The objective, co-founder Mónica Gonzales explains to me, is to get viewers to empathize. To show that there are real people behind the statistics, and their grief endures long after the newspaper headlines are gone.
Some of the victims simply disappeared -- no body ever found, the death never confirmed. In one video Diana Iris García tells how her 23-year-old son vanished in 2007; she does this whilst standing in his unchanged room, a row of baseball caps hanging behind her. In the beginning, she says, she had complete confidence in the ministry of justice, but they did almost nothing to help. Every day she hopes that he will reappear. "Not knowing where he is," says another mother in a different video, "that's the cruelest thing."
Not every family of murder victims wants to be so openly critical. Many of those the team contacts didn't want to risk further trouble by speaking out. Others, however, are happy to finally be given a voice. There is a serious stigma attached to being in that situation, Mónica explains, and the families can't tell anybody what it has meant for them -- not only emotional but also practical and financial.
The people in these videos give off a heartbreaking sense of powerlessness. And also a certain pessimism, as though they hold little hope for the situation ever improving.
Prospect for a brighter future?
But perhaps there are some grounds for more optimism. Recent research shows that rates of violent crime in Mexico are falling. And tens of thousands of people -- most of them young people -- have watched the videos on Geografía del Dolor. Perhaps this will help to create a generation resolved to curb the power of the cartels.
But watching the videos, you have the sense that what motivates these people to participate is not as calculating as that, but a more urgent human need. In the words of Diana, mother of Daniel who disappeared: "This is my way of honoring and remembering him, so that time does not erase his face."
This article is part of the series "lab around the world." You can find more information here.
This post originally appeared on HuffPost Germany and was translated into English.