Movies have the benefit of perfectly polished scripts, crafted and edited by the world's greatest wordsmiths. But what happens when the moviemakers walk onstage to accept the highest prize in their profession, filled with surprise and emotion but lacking a script?
The Academy Award acceptance speech: While others have done analyses of individual years of Oscars, this is a bit more comprehensive, including every word uttered during the last 20 years of acceptance speeches. In total, there have been over 73,000 spoken, including 7,000 unique words, throughout the 468 speeches available on the Academy's website. Here are the top 100 words, with the size proportional to the number of uses: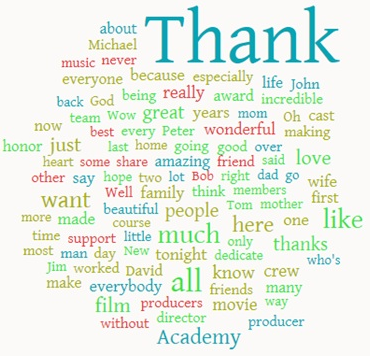 The top ten words are unsurprising: and (spoken 3,679 times over the last 20 years), to (2,923), the (2,502), you (2,807), thank (2,044), I (1,904), my (1,525), of (1,343), for (1,220), a (1,200).
See the rest at Ben's Oscar Forecast!