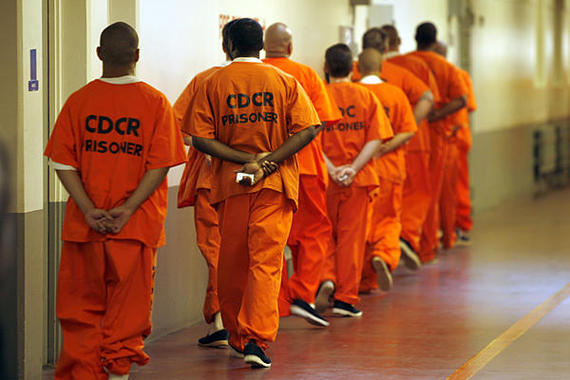 Next week, California voters will have a chance to vote for historic criminal justice reform in a state that badly needs it. A ballot initiative called Proposition 47 is poised to rebalance California's priorities away from incarceration and towards rehabilitation and education.

Proposition 47 has a strong base of support, with law enforcement proponents like San Francisco District Attorney George Gascón, Santa Clara District Attorney Jeffrey Rosen, retired San Diego Police Chief William Lansdowne, and Wayne Hughes, Jr., a self-proclaimed "conservative businessman." The initiative even got a shout out this summer from Jay-Z during a concert at the Rose Bowl in Pasadena, CA.

Dubbed "Californians for Safe Neighborhoods and Schools," Proposition 47 will reduce the punishments for low-level, nonviolent crimes like drug possession and petty theft. Essentially, it will reduce the number of felons by raising the bar for a felony offense. Importantly, it will give authorities the opportunity to "re-sentence" anyone already in prison for these minor offenses - effectively allowing the law to be applied retroactively.

This will accomplish a number of things at once. First, it will free up space in California's prison system. The system is already under federal scrutiny for severe overcrowding - overcrowding that is both morally despicable and fiscally irresponsible, costing the state millions in upkeep. More sensible sentencing policy will go a long way toward freeing up space for more serious offenders.

Second, it will save hundreds of millions of dollars every year in state prison costs, generating between $750 million and $1.25 billion in savings for the state over the next five years. These savings will be reinvested partly in the K-12 public school system - which has been feeling the burn of recession in recent years - as well as in mental health services, drug treatment, and victim services that will make the state safer. If we are going to go back to leading the world in the number of adults with college degrees, we'll have to stop leading the world in the rate of adults and juveniles that we incarcerate.

Third, Proposition 47 will allow police officers to rebalance their priorities and their resources. Every minute an officers spends looking into a minor drug sale or petty theft is a minute they don't spend investigating a rape or interviewing suspects around a murder.

Finally, this initiative will have an enormous impact on the would-be offenders themselves. We all make mistakes. But under the current system, those mistakes can have consequences entirely out of proportion with the size of the crime, especially for young men of color living in low-income communities. When a young person is sent to prison, even a non-violent offense, they can expect sizable barriers when they get out, including being locked out of jobs, housing and student loans. Proposition 47 will divert these minor offenders away from prison and towards treatment and mental health services, and avoid setting them down that counterproductive path.

Jay-Z said it well at his concert: "Prop 47, California: Build more schools, less prisons. More schools, less prisons, California. They'll never be able to stop us."

If we spread the word about the incredible importance of Proposition 47, then I am confidence he will be right.

Ben Jealous is a Partner at Kapor Capital, Senior Fellow at the Center for American Progress, and former President and CEO of the NAACP. He grew up in Monterey, California.