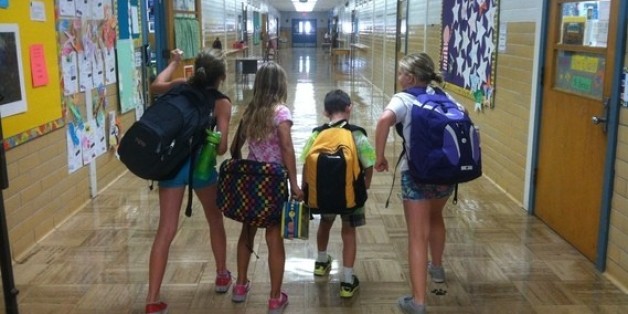 School started this past week here in Austin. It always feels so abrupt, that transition from summer to school. For three months there are basically no bedtimes, lots of cousins, time with Grandma, swimming, canoeing, lazy afternoons reading and napping and lounging about and morning after morning spent sleeping in.
Then, BAM! School starts back with lunches and homework and early mornings and strict bedtimes and lots of things that just have to be done, right away or at least on a pretty tight schedule. Not that it's bad, just that it's different. and by different I mean a little bit like a punch in the belly. ESPECIALLY if we are not prepared.
Which this year, I gotta say, even with getting four kids out the door to three different schools, we all felt pretty prepared. We had figured out bus schedules and school supplies and lunch boxes and wake up times. We had found scissors and binders and mechanical pencils from last year and had even thrown the backpacks in the washer for a fresh, clean start to this brand new academic season.
And the other thing I did? I took my own advice from my very own book and I set my alarm for 10 minutes earlier than I had set it last year. I also vowed to myself that I would not hit the snooze. And that I would wake the kids up a few minutes earlier too. Because really, though it SEEMS like the snooze will give me what I want, and even though I am not naturally a morning person, not by any stretch of the imagination, unless I can snooze for another hour, the snooze doesn't give me anything but a panicked start to the day.
But this 10 minutes of extra awake time? It gives me the world. It gives me time to put my coffee on and get dressed and even take a few sips of that coffee paired with a nice, deep breath. It gives us all space around things that need doing, like getting that signature we forgot last night or finding that shoe that's got to be around here somewhere or changing the stained shirt or just sitting for a minute staring at the ceiling without me freaking out that WE'RE GONNA BE LATE!!!
It's rather amazing, really, the chilled-out-ness that the extra 10 minutes is giving us all. Not to exaggerate or over-emphasize, but truly? With this extra 10 minutes in the morning, we're happier, easier and surely healthier too, because that feeling of panic that comes from rushing -- whether we feel it in our heads or our bellies or in our throats as we're yelling to get a move on -- that feeling cannot be good for us.
I know we're only in week one of school, and I have been known to wane on resolutions in the past, but I think this one's a keeper. And I am going on record here as saying that that extra 10 minutes is a total game changer at our house. Not that we're all walking out the door singing Kumbaya or anything, but we might. We just might.
My children love it when I sing.