Whether you're PRObama, NObama, or still undecided, 52 Reasons to Vote for Obama gives you all the information you need to share with friends, debate with relatives and decide for yourself as we head toward one of the most important elections of our lifetime. I'll post a new reason in random order every Monday through Friday from now 'til the election.
This is a big f@#%*ng deal. -- Joe Biden, caught on an open mic congratulating President Barack Obama during the health care signing ceremony, Washington, D.C., March 23, 2010
We all know the vice president is famous for his gaffes. What we may not realize is that Biden has revolutionized the office of the vice presidency, giving it more weight than any other administration in history. He has been more closely involved with a range of day-to-day issues than any of his predecessors and has spearheaded some of the administration's greatest challenges and achievements.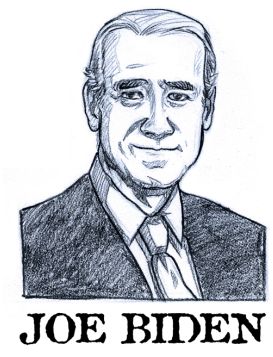 Here are just a few:
Oversaw implementation of the stimulus plan, creating or saving millions of jobs and helping to rebuild our economy
Heads the Middle Class Task Force, focusing on education and training, work/family balance, raising middle-class income, restoring labor standards and protecting retirement security
Negotiated compromises with Congress on the 2010 tax and 2011 budget packages
Helped secure the Senate's approval of the New START nuclear-arms reduction treaty with Russia
Helped end the war in Iraq responsibly, traveling to the country eight times since being elected
Convinced the president to withdraw troops from Afghanistan
Biden has emerged as Obama's chief troubleshooter and one of his closest advisors. A minister without portfolio, Biden has full access to the president's schedule and can attend any meeting. He is regularly dispatched to deal with some of the administration's thorniest issues, whether they be in China, Pakistan or on Capitol Hill. Obama and Biden often spend several hours a day together when both are in Washington, and have a weekly one-on-one lunch. Officials say Biden is typically the last person in the room with the president.
"He has a rare ability to understand the political factors which influence the behavior of public officials, both domestic and foreign," says Joel Goldstein, an expert on the vice presidency. "His interpersonal skills have made him well-liked by partisans with whom he has dealt on both sides of the aisle."
Biden sometimes presses Obama to make the tough decision that he knows is right, even if it may not be the best political move. His notorious candor and penchant for off-the-cuff remarks certainly were at play when he helped push Obama out of the closet to publicly declare his support for the freedom to marry.
Joe Biden: strong leader, close advisor, trusted confidant, thoughtful challenger... exactly what you want in a vice president.
I encourage you to join in the conversation and share your thoughts on Reason #36 or your own reasons by visiting 52 Reasons to Vote for Obama on Facebook... I'd love to hear from you!
To purchase a copy of 52 Reasons to Vote for Obama, visit Amazon.