Whether you're PRObama, NObama, or still undecided, 52 Reasons to Vote for Obama gives you all the information you need to share with friends, debate with relatives and decide for yourself as we head toward one of the most important elections of our lifetime. I'll post a new reason in random order every Monday through Friday from now 'til the election.
Every time I see that smile I can't help but, well, smile!
Barack Obama's smile is electrifying, magnetic, contagious. When he flashes that toothy grin, you can't help but feel good and smile back, like he's your friend. You almost want to give him a wave, like someone you might see on the street and say hello to. Dentists are beside themselves. Here are a few comments from a survey conducted by TheWealthyDentist.com:
I think as Commander in Chief a great smile is important, because you are constantly in the public eye. Your smile should be cosmetically pleasing for image, a boost for dentistry as a whole, and an invaluable tool in building rapport for communication to America and the world. -- Georgia dentist
Barack Obama has a beautiful smile. He is just blessed with good genetics. His teeth appear to be aligned in an almost ideal Angles Class I occlusion. From a dental esthetic standpoint, the other presidential candidates don't have a chance. -- Illinois dentist
There's no question that we, as humans, are drawn to people with happy, friendly faces. The smile is reassuring and inviting, and inspires confidence and trust. Obama's grin is genuine, effortless -- not at all like those forced smiles politicians so often wear. His smile, among other attributes, has undoubtedly helped drive his likability and favorability, huge assets at a time when politics can be so negative, dark and confrontational.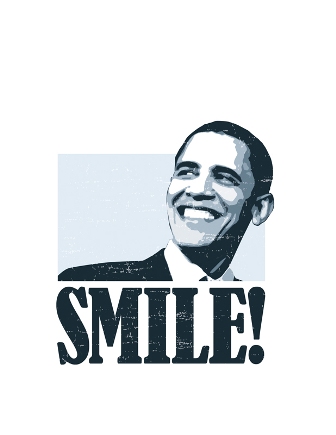 Science has actually shown that the human brain prefers happy faces and can recognize them more quickly than negative expressions. Deborah Blum writes in Psychology Today: "Smiles are such an important part of communication that we see them far more clearly than any other expression." According to Blum, research shows that "we can pick up a smile at 300 feet -- the length of a football field." She calls the smile "the most recognizable human signal in the world."
Like his commitment to America, his faith in this country, and his passion for basketball, Barack Obama's smile never wavers, literally. Eric Spiegelman, a blogger, was scanning the State Department's Flickr page and noticed that, despite posing for over one hundred photographs with foreign leaders for the 2009 U.N. General Assembly opening, his smile never changed. Check out the video he made
Even superstar Cher has gushed over Obama's grin, tweeting just before meeting him, "Cant wait 2 c beautiful smile in person."
MSNBC's Chris Matthews has said that Obama's smile is worth five to ten points on Election Day. I'm not sure it's worth quite that much, but given how close this election is likely to be, I'll take even a point or two.
I encourage you to join in the conversation and share your thoughts on Reason #43 or your own reasons by visiting 52 Reasons to Vote for Obama on Facebook... I'd love to hear from you!
To purchase a copy of 52 Reasons to Vote for Obama, visit Amazon.