Whether you're PRObama, NObama, or still undecided, 52 Reasons to Vote for Obama gives you all the information you need to share with friends, debate with relatives and decide for yourself as we head toward one of the most important elections of our lifetime. I'll post a new reason in random order every Monday through Friday from now 'til the election.
"Thanks to President Obama, bin Laden is dead and General Motors is alive. You have to ask yourself, if Gov. Romney had been president, could he have used the same slogan -- in reverse" -- Vice President Joe Biden, April 26, 2012
The killing of Osama bin Laden represents one of the most daring moments of Obama's presidency, or any presidency, for that matter. The successful outcome of the raid was hardly certain, and the guts it took speak volumes about the kind of leader Barack Obama is. Defense Secretary Robert Gates was against the decision, as was General James Cartwright, vice chairman of the Joint Chiefs of Staff. Even Vice President Biden was against the assault. At the end of the day, Barack Obama and Barack Obama alone decided on sending in SEAL Team Six. Not an easy decision to be sure, but he made the right one.
George W. Bush's brash and bellicose Defense Secretary Donald Rumsfeld had called off a similar raid six years earlier, raising many of the same concerns that Obama administration officials said complicated the bin Laden mission. Rumsfeld decided the raid was too dangerous and might cause a rift with Pakistan (since they'd been such a reliable and trustworthy ally).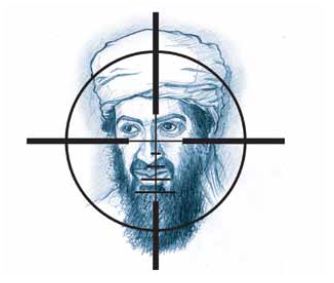 The bin Laden assault also underscores some core values and fundamental character strengths of Obama: keeping promises, trusting your instincts and following through, even in the face of tremendous adversity. These are some of the true qualities America wants, deserves and expects in its chief executive.
Almost four years before the raid, in August 2007, then-senator Barack Obama pledged to kill bin Laden, first in a speech at the Woodrow Wilson Center and later during a Democratic primary debate:
If we have actionable intelligence about high-value terrorist targets and President Musharraf won't act, we will. I think that if we have Osama bin Laden in our sights, and we've exhausted all other options, we should take him out before he plans to kill another 3,000 Americans. I think that's common sense.
In a March 2008 speech in Fayetteville, North Carolina, Obama underscored his position, remarking, "If we have actionable intelligence about high-level al Qaeda targets in Pakistan's border region, we must act if Pakistan will not or cannot."
And during an October 2007 debate with Senator John McCain, Obama stated unequivocally, "We will kill bin Laden. We will crush al Qaeda. That has to be our biggest national security priority."
This approach stands in stark contrast to that of President Bush, who said just a few months after the 9/11 attacks:
Who knows if he's hiding in some cave or not; we haven't heard from him in a long time. And the idea of focusing on one person is -- really indicates to me people don't understand the scope of the mission. Terror is bigger than one person. And he's just -- he's a person who's now been marginalized... So I don't know where he is. You know, I just don't spend that much time on him, to be honest with you.
Bin Laden was then allowed to escape from Tora Bora, after pleas from commanders and intelligence officials for more resources were rebuffed by top Bush national security officials. In late 2005, the CIA shuttered its bin Laden unit entirely, as part of a broader shift of resources toward Iraq. And by 2006, as the war in Iraq was foundering, Bush told Fred Barnes of The Weekly Standard that capturing bin Laden was "not a top priority use of American resources."
Apparently when Mitt Romney ran for president last time around, he agreed, saying in April 2007 that killing Osama bin Laden was "insignificant" and concluding that it wasn't "worth moving Heaven and Earth." Four months later, in August 2007, Romney blasted Barack Obama for vowing to strike al
Qaeda targets inside Pakistan if necessary, saying, "I do not concur, in the words of Barack Obama, in a plan to enter an ally of ours."
Good thing Obama was president last May, and not Bush or Romney.
I encourage you to join in the conversation and share your thoughts on Reason #1 or your own reasons by visiting 52 Reasons to Vote for Obama on Facebook... I'd love to hear from you!
To purchase a copy of 52 Reasons to Vote for Obama, visit Amazon.