Whether you're PRObama, NObama, or still undecided, 52 Reasons to Vote for Obama gives you all the information you need to share with friends, debate with relatives and decide for yourself as we head toward one of the most important elections of our lifetime. I'll post a new reason in random order every Monday through Friday from now 'til the election.
I would not be standing here tonight without the unyielding support of my best friend for the last sixteen years... the rock of our family, the love of my life, the nation's next first lady... Michelle Obama. -- President-elect Barack Obama, election night, November 4, 2008
Michelle Obama burst on the national scene four years ago, and, like her husband, quickly captured the imagination of the nation. Some say she is her husband's best asset. She is more popular than the president, with a favorability rating of 66 percent, unchanged from two years ago.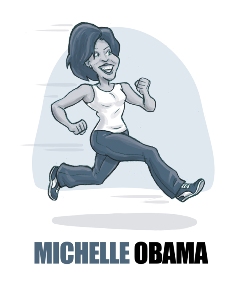 As first lady, Michelle Obama has focused her efforts on fighting childhood obesity and improving nutrition. In February 2010 she launched Let's Move!, a comprehensive initiative dedicated to solving childhood obesity, in significant part through improving nutrition education and access to good food, within a generation.
Let's Move! recognizes that everyone has a role to play in reducing childhood obesity. The program brings together parents, caregivers, faith- and community-based organizations, business leaders, teachers and school administrators, doctors, nurses, and government leaders in a nationwide effort to
create a healthy start for children;
empower parents and caregivers;
provide healthy food in schools;
improve access to healthy, affordable foods;
encourage kids to be more physically active.
Last year Michelle teamed up with Dr. Jill Biden, Vice President Biden's wife and a professional educator, to launch Joining Forces, a nationwide campaign that encourages all sectors of society to give our service members and their families the opportunities and support they have earned. Joining Forces works closely with American companies committed to answering President Obama's challenge to hire or train one hundred thousand unemployed veterans and military spouses by 2013.
Through innovative programs and initiatives, Joining Forces
educates the public about the unique needs and strength of America's military families;
highlights the skills, experience, and dedication of America's veterans and military spouses to enhance our communities;
encourages businesses to hire veterans and their spouses;
expands education, job training and career development opportunities for veterans and their spouses;
helps employers create military family-friendly workplaces;
expands access to wellness programs and resources for military spouses and families;
helps schools become more responsive to the unique needs of military children and families;
strengthens connections between the American public and the military.
In addition to her work fighting childhood obesity and supporting military families, First Lady Michelle Obama is active in encouraging national service, promoting the arts and arts education, and speaking out on the importance of balancing career and family.
Accessible, approachable and stylish, she is an unpretentious and down-to-earth role model for minority women around the globe and someone that many women say they can relate to easily. She was raised in a blue-collar family, once made more money than her husband and has conquered many obstacles, including racism, as she has become an international sensation.
Michelle is so popular that some people have suggested that she should run for president, like Hillary Clinton did after her husband left office. "Absolutely not. No," she said to laughter, after being asked by a young participant at the White House's annual Take Our Daughters and Sons to Work Day whether she'd want to be president. "I think one of the things you learn about yourself as you get older are what are your strengths and what are your interests. And for me it's other stuff that is not being the president."

Michelle Obama: class, style, smarts, grace, humor, enthusiasm... Exactly what you want in a first lady!
I encourage you to join in the conversation and share your thoughts on Reason #39 or your own reasons by visiting 52 Reasons to Vote for Obama on Facebook... I'd love to hear from you!
To purchase a copy of 52 Reasons to Vote for Obama, visit Amazon.