Whether you're PRObama, NObama, or still undecided, 52 Reasons to Vote for Obama gives you all the information you need to share with friends, debate with relatives and decide for yourself as we head toward one of the most important elections of our lifetime. I'll post a new reason in random order every Monday through Friday from now 'til the election.
In the end, our financial system only works -- our market is only free -- when there are clear rules and basic safeguards that prevent abuse, that check excess, that ensure that it is more profitable to play by the rules than to game the system.
--President Barack Obama, July 21, 2010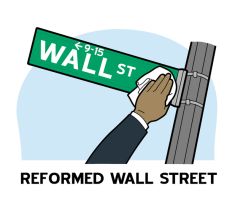 In the wake of the economic collapse of 2008, Barack Obama was determined to hold Wall Street accountable. He worked to put into place reforms that would protect consumers and ensure such a crisis did not happen again.
The Dodd-Frank Wall Street Reform and Consumer Protection Act, the most comprehensive financial reform since the Great Depression, empowers consumers to make better, more informed financial decisions, ends taxpayer bailouts, and shines a light on the shadowy deals that caused the financial crisis.
Key Benefits
I. The act holds Wall Street accountable:
Ensuring no more bailouts.
Preventing firms from being "too big to fail" by limiting the growth of the largest ones and restricting risky activities.
Making sure that taxpayers will never again haveto bear the costs of Wall Street's irresponsibility.
II. The act protects Americans from unfair, abusive financial practices:
The Consumer Financial Protection Bureau will establish and enforce clear and consistent rules for the marketplace for families who want to buy a home, apply for credit cards, or are caught by unexpected bank overdraft fees.
III. The act closes gaps in our financial system:
There will be greater transparency, more accountability,stronger capital buffers, and less concentration of risk among large financial firms.
Banks will be prohibited from gambling with depositors' money (the Volcker Rule).
More power will be ceded to the Federal Reserve but with additional congressional oversight.
Risky derivatives will be regulated and hedge fund trades will be brought to light.
There will be oversight for credit-rating agencies and increased supervision of insurance companies.
As President Barack Obama remarked on the passage of Wall Street reform:
The American people will never again be asked to foot the bill for Wall Street's mistakes. There will be no more taxpayer-funded bailouts -- period. If a large financial institution should ever fail, this reform gives us the ability to wind it down without endangering the broader economy. And there will be new rules to end the perception that any firm is "too big to fail."
Greater oversight on Wall Street means greater security on Main Street... a fact you can bank on.
I encourage you to join in the conversation and share your thoughts on Reason #11 or your own reasons by visiting 52 Reasons to Vote for Obama on Facebook... I'd love to hear from you!
To purchase a copy of 52 Reasons to Vote for Obama, visit Amazon.