Whether you're PRObama, NObama, or still undecided, 52 Reasons to Vote for Obama gives you all the information you need to share with friends, debate with relatives and decide for yourself as we head toward one of the most important elections of our lifetime. I'll post a new reason in random order every Monday through Friday from now 'til the election.
I have to tell you that over the course of several years as I have talked to friends and family and neighbors, when I think about members of my own staff who are in incredibly committed monogamous relationships, same-sex relationships, who are raising kids together; when I think about those soldiers or airmen or marines or sailors who are out there fighting on my behalf and yet feel constrained, even now that 'don't ask, don't tell' is gone, because they are not able to commit themselves in a marriage, at a certain point I've just concluded that for me, personally, it is important for me to go ahead and affirm that I think same-sex couples should be able to get married.
-- President Barack Obama, in an interview with Robin Roberts on ABC News, May 9, 2012
Marriage is about love, commitment and family, universal truths and values that cut across political and ideological lines and should be accepted by everyone. The president's endorsement of the freedom to marry for gay and lesbian Americans is an extraordinary step forward for everyone who honors the American traditions of equality, compassion, limited government and equal rights. His journey mirrors that of tens of millions of Americans during recent years, as we now see people of all faiths, socioeconomic backgrounds and political ideologies support marriage equality in record numbers. President Obama's support for the freedom to marry is a significant milestone, not only for the LGBT community, but for all Americans.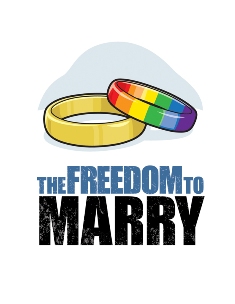 Polling shows significant support for Obama's stance on marriage. According to Gallup, 51 percent approve of the president's position, including 53 percent of independents polled. In fact, at least a dozen national polls during the last two years show a majority support for the freedom to marry, with approval ranging from 50 to 54 percent.
African Americans are now more likely than the general population to support the freedom to marry, with 59 percent saying they want to legalize same-sex marriage and 65 percent favoring Obama's position. Overall, strong support for the freedom to marry now overpowers strong opposition for the first time (39 versus 32 percent). Opposition to same-sex marriage is at an all-time low, with only 39 percent saying it should be illegal.
Even conservative Republicans are beginning to realize that marriage equality is inevitable. In a May 2012 memo, George W. Bush's pollster Jan van Lohuizen writes:
Support for same sex marriage has been growing and in the last few years support has grown at an accelerated rate with no sign of slowing down... The increase in support is taking place among all partisan groups. While more Democrats support gay marriage than Republicans, support levels among Republicans are increasing over time.The same is true of age: younger people support same sex marriage more often than older people, but the trends show that all age groups are rethinking their position.
The tide is indeed turning toward equality, and Barack Obama's acknowledgment of support for the freedom to marry represents another major step forward in America's recognition that all people -- gay and straight -- are created equal, and deserve the same opportunities to live, to love and to laugh, growing old together.
I encourage you to join in the conversation and share your thoughts on Reason #10 or your own reasons by visiting 52 Reasons to Vote for Obama on Facebook... I'd love to hear from you!
To purchase a copy of 52 Reasons to Vote for Obama, visit Amazon.