Whether you're PRObama, NObama, or still undecided, 52 Reasons to Vote for Obama gives you all the information you need to share with friends, debate with relatives and decide for yourself as we head toward one of the most important elections of our lifetime. I'll post a new reason in random order every Monday through Friday from now 'til the election.
You came home and sometimes were denigrated when you should have been celebrated. It was a national shame, a disgrace that should have never happened. That's why here today, we resolve that it will not happen again. -- President Barack Obama, on the treatment of Vietnam Vets, Memorial Day 2012
President Obama is committed to protecting our veterans at home, just as they have protected us abroad. He has enacted a comprehensive and far-reaching package of reforms to protect military families and ensure they get the treatment, support and honor they deserve.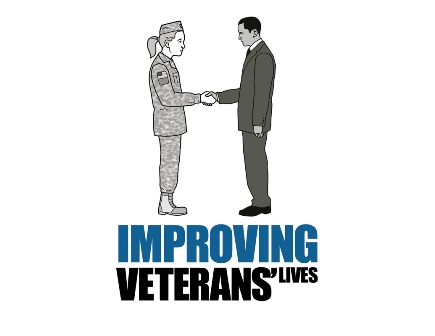 Here are some highlights:
The VOW to Hire Heroes Act provides tax credits for hiring veterans, expands education and training opportunities for vets, and offers disabled veterans additional vocational rehabilitation.
An expansion of the Post-9/11 GI Bill makes it easier for National Guard and reserve members to qualify, provides a 1,000-per-year book allowance for active-duty service members and their spouses, offers distance-learning students a living stipend, and covers vocational training. In 2012, more than 500,000 participants are expected to receive almost $8.5 billion in tuition, fees, housing and stipend benefits.
It is now easier for men and women who served in the armed forces to receive benefits for PTSD (post-traumatic stress disorder).
Better and faster care for our veterans will be supported through integrating medical records into a unified computerized system to help prevent delays, lost records and bureaucratic roadblocks, ending a backlog of 800,000 disability claims that could take six months or more to process.
Enhanced care for veterans will be achieved through using hospitals outside of VA network, eliminating co-payments for catastrophically disabled veterans, increasing housing and transportation assistance for veterans living far from care facilities, creating a child care program for veterans receiving intensive medical care and expanding support for homeless veterans.
Extended assistance will be given to caregivers of veterans, including specialized training, counseling and health insurance.
Homelessness among veterans has been cut by 56 percent. President Obama is the first person in history to receive the Jerald Washington Memorial Founders' Award, the highest award in homeless-veteran advocacy, twice -- a true indicator of the president's commitment to veterans. The initiatives outlined in the United States Interagency Council on Homelessness' Opening Doors: Federal Strategic Plan to Prevent and End Homelessness aim to end chronic homelessness by 2015, with a particular focus on ensuring our country's defenders have a place to call home.
As the first president from the post-Vietnam generation, Obama is also determined to show our Vietnam veterans the appreciation and support they often didn't get upon their return home. Organizers of this effort are planning tens of thousands of commemoration events across the country, beginning in 2014. Obama wants to kick off the celebration, underscoring how the country has changed since Vietnam.
We owe our veterans -- who risk their lives every day to keep us safe -- nothing less.
I encourage you to join in the conversation and share your thoughts on Reason #15 or your own reasons by visiting 52 Reasons to Vote for Obama on Facebook... I'd love to hear from you!
To purchase a copy of 52 Reasons to Vote for Obama, visit Amazon.