Whether you're PRObama, NObama, or still undecided, 52 Reasons to Vote for Obama gives you all the information you need to share with friends, debate with relatives and decide for yourself as we head toward one of the most important elections of our lifetime. I'll post a new reason in random order every Monday through Friday from now 'til the election.
For the first time in nine years, there are no Americans fighting in Iraq. For the first time in two decades, Osama bin Laden is not a threat to this country. Most of al Qaeda's top lieutenants have been defeated. The Taliban's momentum has been broken, and some troops in Afghanistan have begun to come home. -- President Barack Obama, State of the Union Address, January 24, 2012
Barack Obama has proven himself to be an extraordinary commander in chief. From Iraq and Afghanistan to fighting terrorism and reducing the nuclear threat, President Obama understands how to project and utilize force to strengthen our national security, protect our homeland, reinforce our alliances and preserve taxpayer dollars.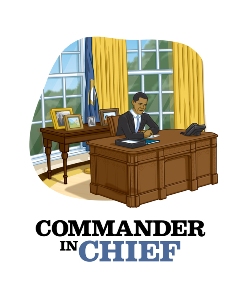 President Obama's most impressive achievements as commander in chief:
Killed Osama bin Laden
Ended the Iraq war
Established exit plan for Afghanistan
Personally approves hits on terrorists and has executed at least 266 drone strikes in Pakistan
Rescued kidnapped Americans held hostage by Somali pirates
Helped overthrow Muammar Gaddafi
Negotiated the first nuclear arms reduction treaty in twenty years
Won the Nobel Peace Prize
Restored America's leadership on the world stage
Regularly visits troops in Iraq and Afghanistan and improves veterans' lives at home
Not bad for a guy with no military background.
Smart strategy + Strong leadership = A more secure world.
I encourage you to join in the conversation and share your thoughts on Reason #20 or your own reasons by visiting 52 Reasons to Vote for Obama on Facebook... I'd love to hear from you!
To purchase a copy of 52 Reasons to Vote for Obama, visit Amazon.