Whether you're PRObama, NObama, or still undecided, 52 Reasons to Vote for Obama gives you all the information you need to share with friends, debate with relatives and decide for yourself as we head toward one of the most important elections of our lifetime. I'll post a new reason in random order every Monday through Friday from now 'til the election.
No longer will our nation be denied the service of thousands of patriotic Americans forced to leave the military, despite years of exemplary performance, because they happen to be gay. And no longer will many thousands more be asked to live a lie in order to serve the country they love. --President Barack Obama, December 18, 2010
In February 2008, then-Senator Barack Obama released an open letter to the LGBT community in which he called for the repeal of Don't Ask, Don't Tell, the policy that prohibited openly gay, lesbian or bisexual persons from military service. He reiterated that promise during the 2010 State of the Union address, saying he would "work with Congress and our military to finally repeal the law that denies gay Americans the right to serve the country they love because of who they are."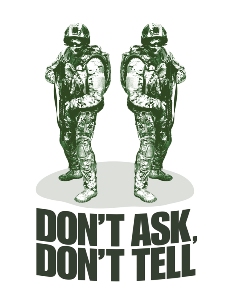 Our country is safer, our military force is stronger, and our national character is strengthened as a result of the end of DADT.
Our government will no longer waste hundreds of millions of taxpayer dollars enforcing an unnecessary, ineffective and unpopular policy that undermined our military readiness and our national security by asking gay service members to live a lie. The repeal of DADT will enhance military readiness and strengthen national security while upholding America's ideals, namely the belief that all men and women are created equal. For decades, gay men and women have risked their lives in silence to serve our country, and now they can do so openly, honestly and with the dignity, integrity and respect the uniform deserves.
The costs of DADT:
Between 1993 and 2011, 14,356 qualified service members were discharged because of their sexuality -- the equivalent of an entire division of fighters.
Of those men and women discharged, 2,215 filled critical roles in the service branches, including voice interceptors, data-processing technicians, translators and special security forces.
More than $600 million was spent to discharge and replace these service members, at a cost of $52,800 each.
Annually, 4,000 gay men and women refused to reenlist due to the DADT policy.
For years, conservative opponents warned that open service would lead to a mass exodus of troops opposed to repeal of DADT, and that it would also push away potential recruits opposed to open service. There have never been any reputable or peer-reviewed studies that have shown that allowing service by openly gay personnel compromises military cohesion or effectiveness.
Indeed, the facts plainly tell the story. Reports from the Pentagon clearly demonstrate that each branch of the military exceeded its recruitment goals for fiscal year 2011 -- most of which took place after repeal became law. All branches also met their fiscal 2011 retention goals, except for the air force, which retained 96 percent of its members.
The Defense Department's numbers, as well as opinion polls of troops conducted by the military and outside sources, prove that allowing gay men and women to serve openly never posed a threat to recruitment or retention. Open service actually improves our military's ability to recruit troops by expanding the pool of potential candidates to include the many thousands of gay Americans willing to serve their country. It also improves our military's readiness by not forcing otherwise qualified troops out of service simply because of who they are.
America was at war for nearly half the time DADT was in effect. The policy actually threatened unit cohesion by requiring certain service members to intentionally mislead their fellow troops and officers, undermining core military values of honesty and integrity and potentially distracting troops from successfully completing the mission at hand. Moreover, thousands of personnel with mission-critical skills, including Arab linguists and combat engineers, were abruptly and unfairly forced out of the military, just when their service was needed most.
With the repeal of DADT, military policy is now properly aligned with military values. And America's policy is consistent with that of many of our closest allies, including the United Kingdom, France, Germany and Israel.
As if we need any further proof that ending DADT was the right thing to do, here are some of the countries that still ban gays from serving in the military: Cuba, China, Egypt, Iran, North Korea, Saudi Arabia, Somalia, Sudan, Syria, Uganda, Venezuela, and Yemen. Nice group to be associated with... not!
I encourage you to join in the conversation and share your thoughts on Reason #26 or your own reasons by visiting 52 Reasons to Vote for Obama on Facebook... I'd love to hear from you!
To purchase a copy of 52 Reasons to Vote for Obama, visit Amazon.