Whether you're PRObama, NObama, or still undecided, 52 Reasons to Vote for Obama gives you all the information you need to share with friends, debate with relatives and decide for yourself as we head toward one of the most important elections of our lifetime. I'll post a new reason in random order every Monday through Friday from now 'til the election.
"Let Detroit go bankrupt," wrote Mitt Romney in a November 2008 op-ed in the New York Times:
If General Motors, Ford and Chrysler get the bailout that their chief executives asked for yesterday, you can kiss the American automotive industry goodbye. It won't go overnight, but its demise will be virtually guaranteed.
Mitt Romney could not have been more wrong.
Let's look at the facts:
More than 1.4 million jobs saved
Nearly $97 billion in personal income losses prevented
More than 230,000 jobs added since June 2009, the most in a decade
Another 167,000 jobs are expected to be added by 2015
GM and Chrysler have repaid their federal government loans
The big three automakers -- GM, Ford and Chrysler -- are profitable for the first time in seven years. GM recorded its highest profits ever in 2011, earning $9.19 billion, the most in its 103-year history. And GM regained its position as the world's number one automaker, with 2011 sales climbing in every region on the planet. GM sold more than nine million cars last year worldwide, up 7.6 percent. GM growth in the United States was even stronger, up 14 percent, while U.S. sales for Chrysler were up 26 percent from 2010.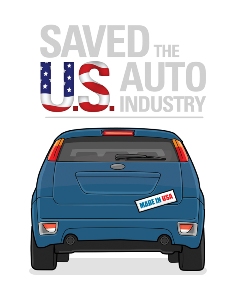 The auto bailout was "one of the most successful things that was done during the economic downturn," remarked Kristi Dziczek, an economist at the Center for Automotive Research. If Mitt Romney had gotten his wish and GM and Chrysler had gone out of business, at least one million more jobs would have been lost, the federal government would have had to spend $14.5 billion to take over the two companies' pension plans, and federal spending on unemployment benefits for just the 129,500 workers at those two companies would have been staggering.
Note to Mitt: Given that almost one in four workers in Michigan is supported by the auto industry, and more than 850,000 jobs in Ohio depend on the auto sector, you might want to flip-flop on this issue, too.
I encourage you to join in the conversation and share your thoughts on Reason #9 or your own reasons by visiting 52 Reasons to Vote for Obama on Facebook... I'd love to hear from you!
To purchase a copy of 52 Reasons to Vote for Obama, visit Amazon.