Last month I spoke at Ignite Chicago, where I debuted my new presentation -- Got Mindfulness? It was a lot of fun. It also was a lot of hard, but satisfying, work.
For presentation junkies, Ignite is a popular live conference event. Produced by local volunteers in more than 100 cities around the world, Ignite provides the stage, then it's up to the speaker to enlighten, stimulate and entertain the audience. Presenters are screened, which keeps the quality high enough to draw a geeky-creative-digital-designer-startup kind of crowd.
Ignite's motto, enlighten us, but make it quick, is the perfect balance of form and function. Ignite speakers get five minutes and 20 slides that auto-advance every 15 seconds. Speaking at a just-comprehensible clip of 160 words a minute, you get about 40 words per slide for a total of 800 words.
With this kind of verbal economy at play, talk is not cheap.
This may sound simple, but trust me, the five-minute format forced a ruthless discipline that was painful, but worth the effort. It got me closer to my goal of making sense of mindfulness for a general audience.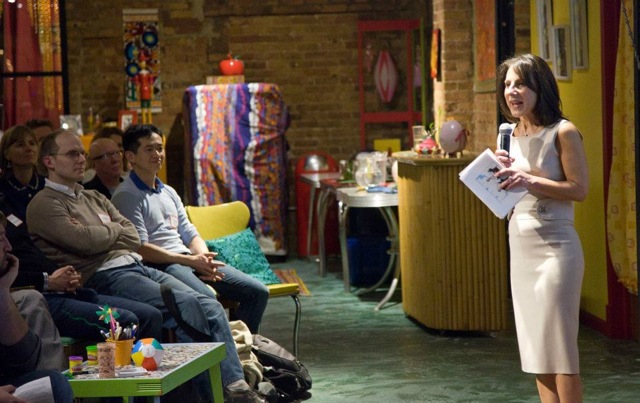 Here are some things to keep in mind as you prepare your own Ignite talk:
1. You must have unassailable faith in the power of focus to carry your story. Backstory is irrelevant. Jump into the middle of your story and find a single focal point. Use your five minutes to chisel and polish until it sparkles with a deep, brilliant glow.
2. Know your audience and speak from their point of view. The Ignite audience is high caliber, driven and focused -- and constantly plugged in. I used technology metaphors to compare and contrast how stress leads to burnout and how my own crash-and-burn experience led me to mindfulness.
3. Make like Homer and become an oral storyteller. I used an entirely different creative process to shape Got Mindfulness? I set up my video camera and started talking. Talk, watch, more talk. After a few days of this, I had a good sequence and it was enough to put together a slide deck. I used high-concept, full-screen images as visual metaphors to illustrate the concept of the mind and body connection.
4. Don't underestimate the need to rehearse. A lot of the success of a short-format presentation rides on performance. My rehearsing time was interrupted by a bout of the stomach flu just three days before Ignite. I resumed rehearsal the day of the event and I was still rehearsing in the ladies' room at Catalyst Ranch up until the time the program began. All in, I spent about 20 hours on Got Mindfulness.
5. Lead strong. Engage your audience right away. I was the last presenter before the break and followed a very high-energy speaker. I took the stage ad libbing: "Wow, after all that great energy, I'm going to dial it way down." Get on the same wavelength with your audience, literally. To synchronize our mirror neurons, I asked the audience to take a couple of slow, deep breaths. I could feel the energy in the room recede.
6. Finish strong. Start with the end in mind. How do you want to feel at the end of your presentation? How do you want the audience to feel at the end of your presentation? At the end, when I asked everyone to take a final, deep breath and the collective inhale was loud, I knew my audience was engaged.
7. Don't get camera shy. The video will live long after the live event. As soon as you take the stage, look directly into the camera and start talking. From time to time, look directly at the camera as if it's another member of the audience.
8. Watch how fast you talk. Many Ignite presenters speak like it's a race against the clock. Five minutes is enough time to say what you have to say. If it's not enough time, your presentation needs more work. One hundred sixty words a minute is slightly faster than normal speech and a good pace for presenting.
9. Dress the part. Whatever dressing up is for you, do it. Looking the part enhances your credibility. Determined not to wear black created a sartorial crisis because almost everything I own is black. I tried on and dismissed several outfits before settling on a sleeveless sheath dress the color of stone. I was dressed, not over dressed, and the color actually worked really well on stage.
Photo credit: Justin Barber