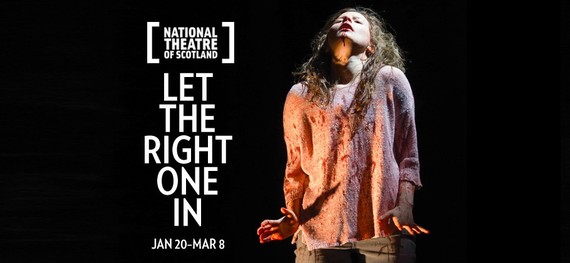 Rebecca Benson as Eli in John Tiffany's production of Let the Right One In. Photo by Manuel Harlan.
From the haunting image of Nosferatu rising out of his coffin in silent film to the glittery-yet-angsty Edward Cullen of Twilight, vampires have had a fascinating history of visual representation in film. When I first saw the Swedish film Let the Right One In, I was immediately struck by how John Ajvide Lindqvist managed to make a beautiful and chilling film about young (queer) love, bullying, and adolescence while also making a vampire movie. Though Lindqvist did not in fact write the National Theatre of Scotland's production of Let the Right One In, currently playing at St. Ann's Warehouse, I think that Jack Thorne's adaptation is worthy of its namesake.
Those of you who have read my reviews of adaptations (especially adaptations from film) know that I always like for a genre change to be appear motivated. When I first saw that National Theatre of Scotland was behind this production, I couldn't contain my excitment. The novel and film versions of this story are appreciatively different, and I like both of them very much. If anyone could make me more excited to see the theatrical version, the company behind two excellent St. Ann's productions from years past - Black Watch and Beautiful Burnout - seemed like the people to do it. The visual elements of those two productions were stunning, and I still think of them both often.
This eye for design was evident from the first moment in front of Christine Jones's set, which was a peaceful, snowy forest of birch trees, with a single jungle-gym. Of course, this also has to do with John Tiffany's direction, which also tends to leave me with an appreciation for the integration of design into the action. Let the Right One In is no exception here, as the snowy forest shows a remarkable range of uses and never figures as simply a backdrop to the action.
The action itself focuses on Oskar (Cristian Ortega) and his pale, mysterious companion, Eli (Rebecca Benson). Oskar is bullied at school, and as we watch him develop a relationship with this queer (in more than one sense) new presence, the results in the rest of his life are immediate. Fans of the film will likely understand a few of the most obvious changes. First of all, Ortega and Benson are not nearly as young as the children in the film. This is part practical concern, of course, but I also ended up really liking this choice. Both actors do an excellent job of playing younger, but the knowledge of their more mature ages makes it slightly less uncomfortable to watch the more violent and drastic scenes.
This stylized disconnection between the body and the character is played out again and again as the rest of the small company doubles roles quite a bit. Sometimes they are simply different characters, but other times they appear to double or support the characters in a scene with choreography done by Steven Hoggett. These moments, my favorite of which being when all the men repeat Oskar's movement as he practices facing down a tree with a knife, are heightened by Olafur Arnalds's music. The haunting instrumental melody is punctured by electronic percussion, creating the perfectly layered soundtrack to this theatrical world.
These aspects of the production were what made the adaptation work best for me. In film, special effects can make flying vampires look naturally at home in an otherwise realistic world. This is harder in an intimate theatre space. Yet with stylized movement, strong acting, and beautiful design, this production managed to give me the same range of emotions I felt in the film, but in the way that only theatre can.
I also have to applaud this production for being genuinely scary at moments. I don't love scary movies, but I have yet to find theatre experiences that can ever scare me as much as movies can. Generally, when "scary" involves effects, I will spend more time in a theatre thinking about how they did something than genuinely being startled by it. This production was a total anomaly for me. With the simplest weapon of timing they managed to scare me so completely that I actually felt the rush of adrenaline.
I smiled for the rest of the production because of that moment, which reminded me that, after all these years of watching and participating in live productions, theatre could still truly amaze and surprise me. This combination of feelings is perfectly suited to a story that is not scary for the purpose of being scary, but instead a rather surreal meditation on what an altered version of reality might teach us about life as we know it.
Perhaps that should actually read "love as we know it," since, ultimately, this is a story about love. It is a love story for the postmodern world, and one that I have appreciated for its creativity across multiple artistic mediums. The show runs through March 8th, so get your tickets now. If you're looking for a truly magical night at the theatre, and you don't mind scary moments, then go through the door at St. Ann's Warehouse, where they've certainly Let the Right One In.