Whenever I see Theater Breaking Through Barriers listed in a season, I always get excited. When I see this company's name together with those of playwrights Bekah Brunstetter, Bruce Graham, John Guare, David Henry Hwang, and Neil LaBute, I get extra excited. You see, as someone interested in the bodily act of live theatre, I respect TBTB's mission of changing the images of people with disabilities from dependence to independence. This company produces plays with actors with disabilities performing alongside those seen as able bodied. The resulting collaborations always leave me with the distinct desire to see a greater variety of bodies on all stages across the board in the theatre community.
The biggest deal about TBTB is how being disabled is not such a big deal. Their version of Merchant of Venice was so good that I actually liked that problematic play in a way I never had before. Normally I see TBTB perform plays from the canon, but their current offering is something new. Power Plays, now playing at Theatre Row's Clurman Theatre, is an evening of five world-premiere short plays, several of which are specifically written to feature actors with disabilities.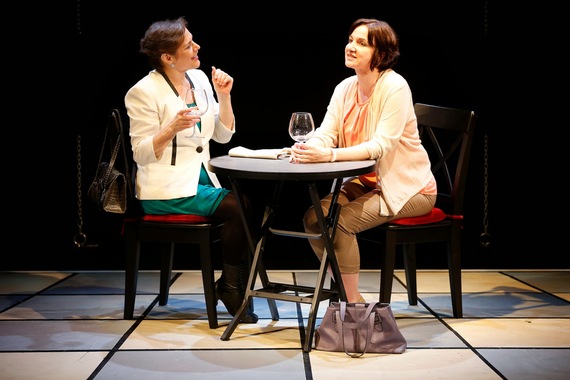 (l-r) Anita Hollande and Pamela Sabaugh in Bekah Brunstetter's MURDER. Photo by Carol Rosegg.
The evening starts with Bekah Brunstetter's Murder. Pamela Sabaugh's Lonnie and Anita Hollander's Bridget are friends, but are now encountering a phase of competitive jealousy over their careers. The realistic dialogue is peppered with a few surreal moments that make it really enjoyable.
This is one of three two-handers for women in this evening, and the differences between these three scenes are fascinating. I will talk about Neil LaBute's I Dare You in a bit, but John Guare's Between brings back Sabaugh, this time with Melanie Boland. The storytelling in this piece is very strong, and it has a great many more levels than the other plays in the evening.
We also have a two-hander for men: Bruce Graham's The Happy F&*#@ing Blind Guy. This is a lighter piece, about a blind man named Tim (David Rosar Stearns) who is so good at his job that his boss Larry (Nicholas Viselli) has to have a talk with him. Stearns's Tim is incredibly charming and this piece is a lot of fun.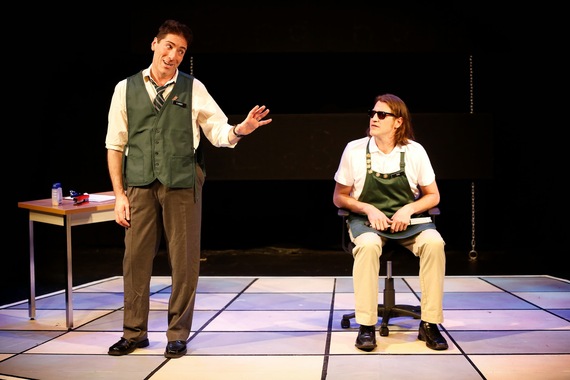 (l-r): Nicholas Viselli (Larry) and David Rosar Stearns (Tim) in Bruce Graham's THE F&*#@!G HAPPY BLIND GUY. Photo by Carol Rosegg.
The only play of the evening that involves more than two actors is David Henry Hwang's Underground, which involves the Wizard of Oz-like journey of Marin (Ann Marie Morelli), who is in a wheelchair, and her husband Jake (Nicholas Viselli), who are now stuck underground because of a lack of working elevators in the subway. It is a rare opportunity to see Hwang's skill for social commentary through comedy at work for disabled bodies rather than racialized bodies. It is just as successful, focusing on a real problem through a lens of whimsy.
Before I discuss Neil LaBute's I Dare You, I need to say that I have never been a fan of LaBute's work. I think that the two actresses in this piece, Morelli and Samantha Debicki, did the best they could with a script that, like most LaBute, lacks any sort of depth. LaBute's world is always populated with people who have incredibly manipulative, sneaky, malicious intentions.
Women bear the brunt of LaBute's apparent disgust with the human race, and so to see that he had written a play featuring two women alone was kind of a shock. Yet there aren't really two women in this script. There is a woman who behaves aggressively in a way that is reserved for men. LaBute also manages to fetishize lesbian and bisexual women in a way that would be shocking to me if it came from any other playwright. It does not shock me any more. The premise of this piece could have a great deal of potential in someone else's hands, but even the likable actors of TBTB could not overcome the sexism lurking in LaBute's lines.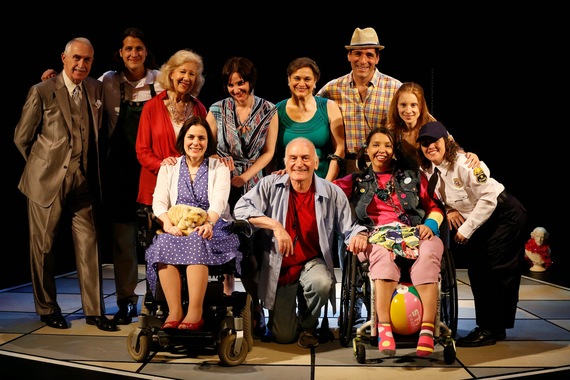 The company of TBTB's POWER PLAYS: (standing, l-r): Lawrence Merritt, David Rosar Stearns, Melanie Boland, Pamela Sabaugh, Anita Hollander, Nicholas Viselli, Samantha Debicki and Mary Theresa Archbold; (seated, l-r): Ann Marie Morelli, Artistic Director Ike Schambelan, Jamie Petrone. Photo by Carol Rosegg.
Despite LaBute's unfortunate script, Power Plays is an overall enjoyable, light night at the theatre. The 75 minute runtime and affordable price make this an easy night of live theatre for those who want to support a company doing really great things for the overall theatrical community. If you want to power up before the summer is in full swing, see Power Plays, which runs through June 29th at the Clurman Theatre in Theatre Row.