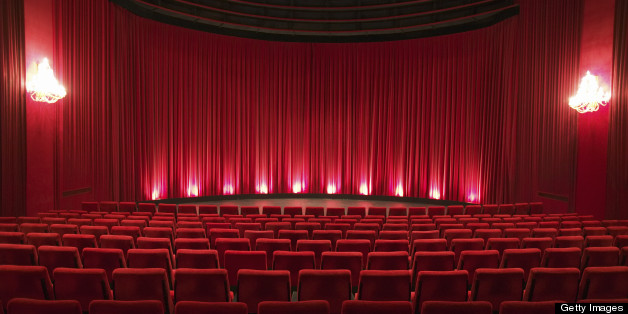 If you know one thing about a man named J. M. Barrie, you most likely know that he is responsible for a story named after its most famous character: Peter Pan, or The Boy Who Wouldn't Grow Up. Yet those of you who know a little bit of theatre history might also know that around the turn of the 20th century, Barrie wrote well-known plays such as The Admirable Crichton and Quality Street. In fact, Barrie wrote a number of other works, though his literary legacy is no doubt tied to that rascally boy Peter, whose story has recently been interpreted by a number of other theatrical hands in recent years. The Pearl Theatre Company's currently offering, This Side of Neverland, presents a doubly rare opportunity: the chance to see some of Barrie's lesser known works and to see two one-act plays presented together.
Upon entering The Pearl's new home on West 42nd Street, one immediately feels that Gary Levinson's set has transported us back in time. We see the footlights, the red-curtained proscenium, and the boarded floor that the actors will soon tread. We are encouraged to sing along as actress Carol Schultz tickled the ivories before the play(s) proper. The two one-acts, Rosalind and The Twelve Pound Look have semi-overlapping casts and are both directed by The Pearl's Artistic Director, J.R. Sullivan.
The light and airy feel of the design elements is a perfect match to the content of these two delightful one-acts. Barrie's tone is decidedly Shavian, from his tongue-in-cheek descriptions of his characters to the social criticisms delivered via witty banter in his dialogue. Sullivan has made an excellent choice in revealing the former via a sort of master of ceremonies/narrator character who reads the opening stage directions in both plays.
This is quite effective, and draws us into the tone of the pieces immediately, even though the actor playing this role, Sean McNall, is one of the weaker members of The Pearl's Resident Acting Company. I'm also unsure as to why this emcee is Scottish, but for whatever reason, the charm and likability necessary to carry off these two one-acts does not come naturally to McNall. Luckily for us, it does come to most of the rest of the company. Rachel Botchan in particular is lovely to watch in both plays, and Bradford Cover's Sir Harry is also incredibly well-cast. By the beginning of the second play, McNall had relaxed into his place a bit, or perhaps I had just become accustomed to his presence.

The acting mostly served the pieces, and it is the one-acts themselves that I want to take a minute to discuss. I was quite surprised by the plots of these two short plays, both of which had twists and turns that I had not expected, and politics that pleasantly surprised me. Without revealing the satisfying plots, I will simply say that I think I would have liked Barrie very much, and he was quite ahead of his time on a great number of issues, especially regarding feminism. All of these positions, at least as positioned in these plays, are delivered with a comedic logic that makes them even more accessible.
I really enjoyed This Side of Neverland. It was not an evening of earth-shattering theatre, but it was a lovely evening at the theatre, which is something that I truly value. If you want some nice, light theatrical fare for a spring night or day, then head over to The Pearl Theatre and see This Side of Neverland. For Barrie did indeed create Neverland, but he also created more than this one world for the theatre, and the opportunity to see these other pieces is a great chance to see what else this man had to say.