It takes skill and tact to be able to combine and monetize your passions in this day and age. Growing them to the point where they transform into a successful business and brand is an art; and few other industries are as demanding of this art as the music business -- an industry fueled by consumers constantly in search of the next big thing.

Atlanta native and music/business entrepreneur, Nicholas "Nick" Love, gives us an interesting way to view the multi-passionate entrepreneur. Love has managed to turn two things he is most passionate about -music and food - into a business and lifestyle brand make a business and a lifestyle brand. What we eat and what we listen to are the biggest influencers of global culture, something Love recognized and capitalized on early.

Love and I actually met in high school, and even then, his love for music and entrepreneurial spirit was evident. It therefore came as no surprise to discover that he had channeled his devotion to the genre into a new enterprise. We recently got together over - you guessed it - food; meeting at one of his favorite breakfast spots in Decatur, GA to catch up. As we sat and ate breakfast our conversation oscillated between creative entrepreneurship, the entertainment industry, and his passion for food and hip-hop.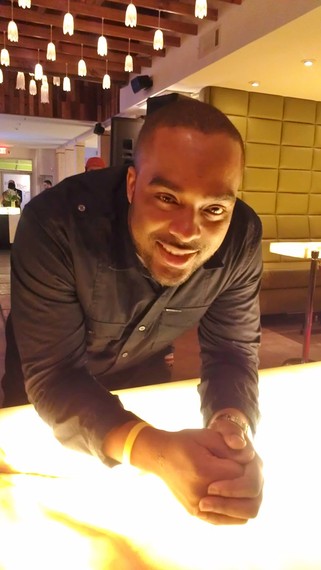 His brand, ATL Bite Life, is housed online and seeks to bridge the gap between popular American foodie culture and the hip-hop generation (ages 21-35). The website highlights the finest dining options in the city, and through interviews with the best and brightest from music, sports, and entertainment, readers/viewers will get a glimpse into what it's like to live, work, and play in this booming southern metropolis. Love created the brand after he realized that he was spending 45% of his annual income eating out at some of Atlanta's best (and worst) restaurants. The runaway expenditure sparked an idea that has blossomed into lifestyle brand that fuses together hip hop and food.

He manages Coalition DJs, which was founded in 2008. The business model for Coalition DJs goes like this: when artists are looking for their big break they essentially pay Nick's company to spin their record in the strip clubs they DJ at. If the song ends up being a hit in the club, then it's likely it will be a hit in the street. (He's helped to break in the careers of artists like 2 Chains.) Coalition DJs has franchises in the nerve centers of the hip-hop body, including Miami, Detroit and the Carolinas. The influence from these centers spreads from there.

Here are some take-aways from my conversation with Nick:

Where he sees coalition DJ's 5 years from now:
Within the next 5 years, Coalition DJs will more than likely continue to evolve into more of a marketing and branding company. The music business is changing every day and we have to be flexible enough to change with it. It's not enough to just spin records anymore. We have to spin records, promote via social media, service records to other DJs, etc. On top of all that, we have to expand our client base. We're capable of doing much more than breaking records. My guys control the flow of the entire club. If we can dictate what music the people should like, what about the clothes they wear to the club, or the liquor they drink while they're there, or the cars they pull up in?

What has been the most challenging part of running running his businesses/brand:
I think the most challenging part of running any business is managing your personnel. I have 15 DJs plus two marketing people under the Coalition umbrella. So, that's 17 people that I have to keep on one accord. But, it's also 17 schedules, 17 personalities, 17 opinions, 17 agendas, 17 egos that I have to work around in a business that seems to reward INDIVIDUALS. Our structure works because we rock as a team. I try to constantly push the concept of TEAM to my guys as well as to our clients. One crew, one direction, one result. When you tamper with that, it creates a Jenga-like effect. What happens when you start to pull bricks out of a wall? Eventually, the wall crumbles. My job is to protect the great wall.

Three important things he would tell someone who is looking get started in an entertainment industry driven business:
First, make sure that whatever job you are pursuing in the entertainment industry is truly a passion of yours. There are very few weekly or bi-weekly paychecks in this business. So, if you're someone who needs stability and comfort OR if you are not mentally prepared for stretches of time with no money, RUN from this industry. You have to LOVE what you do because that passion is what's going to push you to keep going when everything around you looks shaky.
Second, if you want a CAREER in this business, make career moves that will allow you to have longevity. Learn the business, build relationships with key people, find a mentor, work hard, read books and articles, etc. If you treat this like a game or a hustle, it will reward you as such.
Third, there's a quote by Loretta Lynn that says "You have to be different, great, or first". I live by that! If you want to stand out in a business built off glitz and glamour where everyone is a character, you better be one of those three things. That quote pushes me to be more creative, more aggressive, more everything. I'm allergic to the status quo and if you want to thrive in this business, you have to be too.