It is no surprise that there's a whole lot of eating going on in Paris--crispy baguettes, pains du chocolate, and pastries not to mention garlicky escargots, cassoulets, and foie gras and toasts, which is not even getting into the hundreds of buttery cheeses and mounds of rich chocolates that melt so lusciously in our mouths. And there is a culture of people here whose "way of the samurai" is a map to the newest good restaurant in town. Food and wine are their raisons d'être, and they talk about it, live it and breathe it, and some make a living at it.
So when these food people (sorry, but I dislike the term "foodies") find the next hot place, there is a furious flurry of talk and blogs on the new resto in town, which has opened on either side of the Seine. And the weird thing is that it's like the hundredth-monkey effect, when one knows about it, they all do. And the word is mumbled in French and English before being blasted into the mainstream consciousness. They're a team of gastronomic cheerleaders with a bull-horn.
So about a year ago in April, the food people started rumbling about a new place called Frenchie, which happened to be in my neighborhood. (Here, I must admit that the rumble has to turn into a roar before I pay attention to the restaurant openings and closings or will go to the trouble to nab a reservation for a "must eat.") So it took me from last April until January to call Frenchie up. The chef was going to be kind enough to squeeze us in for a late dinner within about a week, but we opted for the routine 8:30 slot, which was available a few weeks later. We met friends Ann and Don there.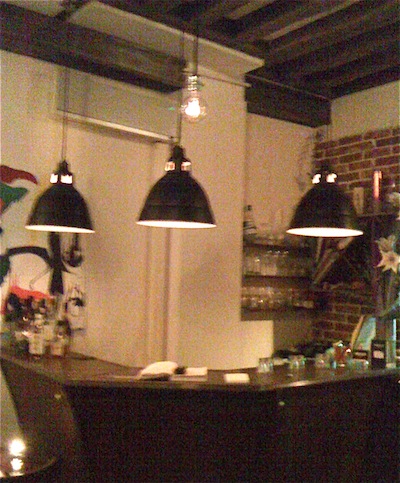 As soon as the Lone Wolf and I marched up the short industrial-ish street in Sentier (exactly in tune with the neighborhood), I loved this place--nothing fancy, almost un-noticeable, tiny and cool. When we stepped in, the space was urban and exposed-brick modern. It had an intimate vibe. Every spot soon filled, and there was a nice buzz of wine-drinking conversation around the room.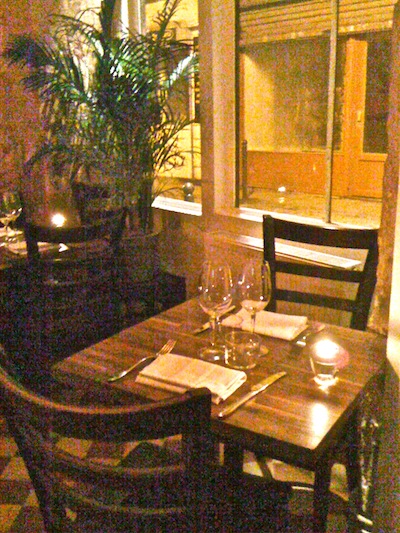 There were two choices for each course though three for dessert, with one being cheese. The Lone Wolf, Don, Ann, and I ordered girl versus boy. The girls won the first round. Ann and my veal sweetbreads with turnips and a vinaigrette with honey and lemon literally melted in our mouths--not that that the men's smoked mackerel with edamame and horseradish wasn't delicious. But one bite of my sweetbreads told me that all the talk about this restaurant was right on the money, and I was asking myself why I hadn't come sooner.
For the next course, the women scored again with our cod fillets drizzled with a saucy bit of artichokes, hazel nuts, and diced smoked ham. The men devoured tender duck, which is always a good order for L.W. or me, but it wasn't quite as stunning an explosion for our taste buds. Lastly, we opted to share a poached pear in hot wine with chestnut ice cream and chocolate. Need I say more? It was soft mouthfuls of heaven. What else could we want? How about a price of 27 € or 33 €. And I'm not kidding.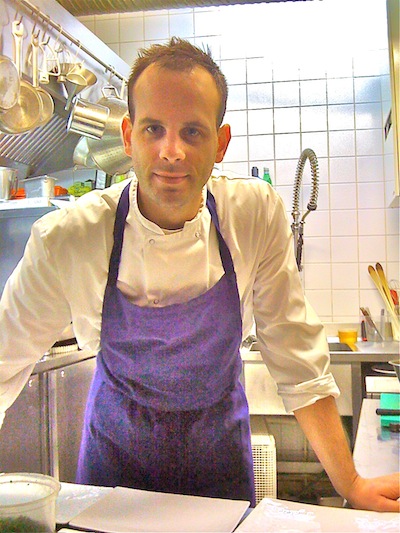 Chef-Owner Gregory Marchand
While we were eating, Gregory Marchand, the chef-owner originally from Nantes, would lean on the window counter that was open to his tiny though evidently perfectly equipped kitchen and look out at us, his patrons, and his culinary fiefdom and smile. We would nod our heads in recognition of his prowess. Chef Marchand speaks very good English and knows the Anglo sensibility since he has worked both at Danny Meyer's Gramercy Tavern and Jamie Oliver's 15.
How lucky are we that he returned to Paris! Even if L.W. and I have moved, it's a quick zip down to our old neighborhood. Reservations required.
Frenchie
5 rue du Nil (2nd Arrondissement)
Paris
Tel: +33 1 40 39 96 19
Metro: Sentier
Beth Arnold lives and writes in Paris. To see more of her work, go to www.betharnold.com.