I have many friends who are former British Royal Marines. This weekend, one of them, Dave Lilburn, and five others took up a daunting challenge. They pulled a 700-pound sled some 60 miles from London to Brighton in an effort to gather toys for the children of Royal Marine Commandos who had been killed in Iraq and Afghanistan. Prior to the actual pull, they had already been incredibly successful, raising money and gathering gifts. Their commitment to the task at hand was complete. They spent time in the gym training, running, attending fundraisers, and making rounds of the media. In talking with Dave, I realized once again, that Royal Marines, like US Marines, are tough on the exterior, but with hearts of gold. He spoke of the generosity of people, and admitted that one event prior to the challenge brought him to tears, when so many toys were delivered to them.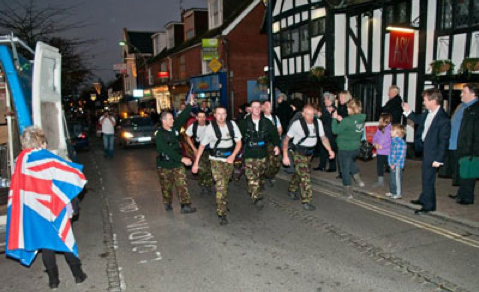 A team of former Royal Marine Commandos pulling the sled
Dave and his friends were very much on my mind Saturday when I headed to the National Museum of the Marine Corps. When I walked into the central gallery, I saw two Marines, in dress blues, standing at a Toys for Tots collection box... and once again, I realized that Marines are Marines, tough on the outside, but always willing to help those less fortunate. Perhaps General Mattis said it best: "No better friend, no worse enemy."
I have addressed more than once, the fact that we face a growing chasm in this country between those who serve and those who have no connection to the military. Less than ten percent of the population has ever served in the military. Less than one percent of the population currently serves in the military. For many, the only knowledge they have of the Marine Corps is gleaned from the media, or from recruiting commercials. The only time many have encountered a Marine in person is during the holiday season when they see them at Toys for Tots collection points.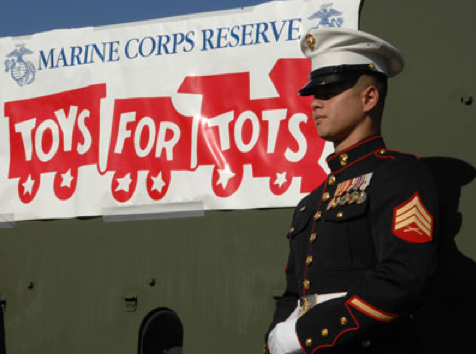 A Marine at a Toys for Tots collection area
So how did Toys for Tots begin?
The idea originated with Diane Hendricks, wife of Marine Major William Hendricks. In 1947, she handcrafted a doll and asked her husband to deliver it to an organization so it could be delivered to a needy child at Christmas. It was, after all, only a few short years after the end of World War II, and there were many children who had lost fathers in the war. Said Major Hendricks, "We didn't have any kids, and she wanted someone to have it." Upon discovering that no such organization existed, she suggested that Major Hendricks found one. Serving with Volunteer Training Unit 12-1 at the Los Angeles Reserve Center, Hendricks and a fellow officer put forth a proposal to their commanding officer for an annual Marine Corps-sponsored toy drive. Colonel C. E. Shepherd, Jr., had one cautionary note: "Don't fail."
That year, Hendricks, who in civilian life was the Director of Public Relations for Warner Brothers Studio, launched a widespread publicity campaign and gathered nearly 7,000 toys for the children of Los Angeles. Said Hendricks, "That first year we delivered the toys ourselves. We were winding up the campaign on Christmas Eve, delivering toys right up to midnight. A master sergeant and I went to a place where three kids were waiting up for us. I can still see their faces. After leaving the toys, one of the children followed us out to the car and said, 'Thank you very much.' That 'thank you' was worth the effort.
The initial effort was so successful that in 1948, it was expanded into a nationwide campaign. That same year, none other than Walt Disney designed the Toys for Tots logo, which is still in use today, as well as the first poster promoting the charity. (Mickey Mouse appeared on a 1978 poster.)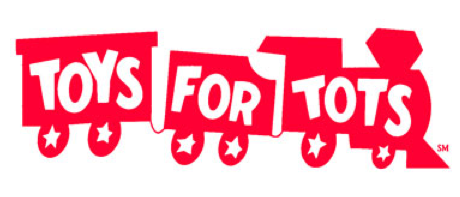 The Toys for Tots logo, designed by Walt Disney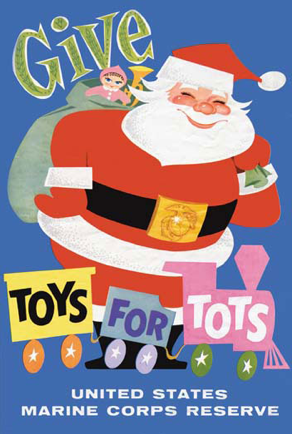 The original Toys for Tots poster
Hendricks used his influence in Hollywood to recruit notable actors and actresses to support the Toys for Tots drive. The first year, publicity photos were being taken of the young actress Janis Paige and a Marine in dress blues. A young actor watched, then asked if anyone could get into the picture. It was John Wayne. Over the years some of Hollywood's best have been involved in the Toys for Tots campaign, including Bob Hope, Bing Crosby, Frank Sinatra, Jerry Lewis and Dean Martin.
A 1952 memorandum from the Director, Marine Corps Reserves went out to all reserve units. In part it read, "You are expected to conduct a local drive for Toys for Tots in your community, if it is at all possible. This is your opportunity to acquaint the general public with the Marine Corps Reserve and even more so, with your particular unit. It is a worthwhile campaign which will net you an unlimited amount of community goodwill." The following year, a formal mission was given to the Toys for Tots program: to enrich the lives of culturally and economically deprived children, to make people of the community more aware of the Marine Corps Reserve, to create a favorable climate for Marine Corps recruiting, and to bring the individual reservists face to face with his (or her) community.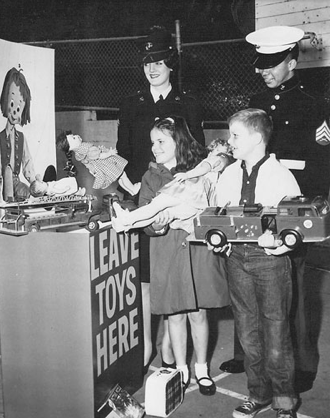 Marines collecting toys, circa 1966
Six years later, Toys for Tots went international when the Commandant of the Marine Corps approved the collection and distribution of toys for the children of Nagoya, Japan, which has been devastated by a tsunami.
In 1980, the Toys for Tots campaign changed slightly and only new toys were collected and distributed. (Prior to this reservists would accept the donation of used toys and refurbish them.) This was due to a number of factors. The Total Force Program, introduced in the 1970s, assigned the Reserves a greater role in America's defensive posture. Reservists no longer had time to refurbish toys. It was also decided that the distribution of used toys was "legally inadvisable." Perhaps most importantly, it was decided that used toys did not send the message of hope to needy children that the Marines wished to send.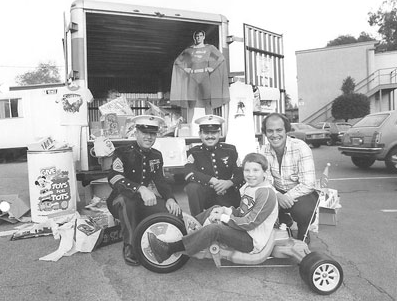 Marines collecting toys, circa 1978. Note the poster featuring Mickey Mouse
By 1996, the campaign was expanded to cover all 50 states by authorizing selected Marine Corps League Detachments and other veteran's organizations located in communities without a Marine Corps Reserve unit, to conduct a Toys for Tots campaign.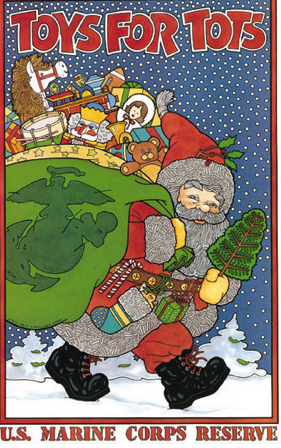 The 1995 Toys for Tots poster
Over the past 64 years, Toys for Tots has grown from one reserve unit collecting some 7,000 toys to a nationwide campaign that, despite the challenges of the long term effects of the war on terror, reserve mobilizations, and growing economic difficulties, last year collected more than 16.7 million toys.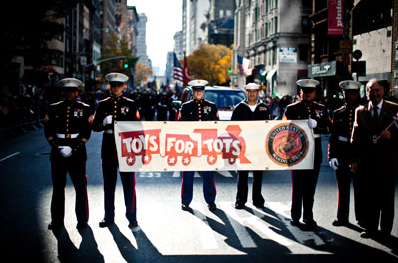 Marines from 2d Battalion, 25th Marines carry the Toys for Tots banner in the New York City Veteran's day Parade, 11 November 2011
In a 1988 interview, Linwood Liner, commandant of the Marine Corps League said, "You show me a Marine -- and I'm one of those who believe 'Once a Marine, Always a Marine' -- who doesn't have a soft spot in his heart for a child, then he's not a Marine."
Liner continued, telling the story of a man who approached him and introduced himself. He said, "I want to help you in Toys for Tots. I can't help financially, but I can volunteer my time. Last year, I was flat on my back without a job. If it hadn't been for the Marines, my kids wouldn't have had a Christmas."
Perhaps an editorial in the Philadelphia Inquirer stated it best:
Veterans of the Marine Corps campaigns of Tarawa, Guadalcanal and Iwo Jima are contributing their time and energies all over the country...to bring that bright Christmas morn gleam into children's eyes....Psychologists probably have some big technical words for that extra measure of human understanding that comes to men who have faced suffering and death first hand and some peculiar explanation of why they so often develop a skin-deep toughness that seems to contrast with the idea of playing Santa Claus to hundreds of thousands of young people....These Marines have discovered the meaning of the message, 'Peace on Earth, Good will toward men' the hardest way of all...
Today, both reservists and veterans, many of them combat veterans of World War II, Korea, Vietnam, Iraq and Afghanistan, continue the tradition of gathering toys for needy children. There are NO better friends than the United States Marines. These are difficult economic times for many, and there are far too many children who will do without this holiday season. During this magical time of year, please be generous. Continue this fine Marine Corps tradition. Drop an unwrapped toy in a Toys for Tots collection box. The simple gift of giving always makes the holidays shine brighter.
Beth Crumley is a regular blog contributor for the Marine Corps Association & Foundation. You can find more of her blogs at: http://www.mca-marines.org/blog.