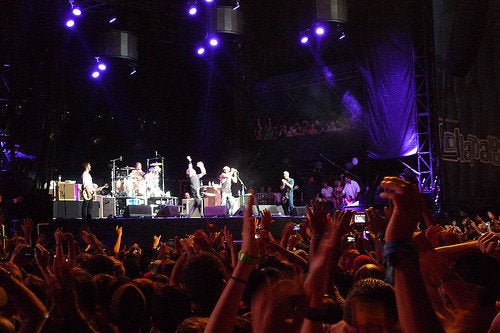 I am here writing about young adult cancer at age 37, nearing middle age, but I don't feel a day over 23. If it weren't for all of the faded memories of my misspent youth, I wouldn't believe it all. I've always had trouble accepting reality, first about aging and, this year, I've had to deal with the reality of being diagnosed with cancer. I'd like to accept these facts more gracefully. Unfortunately, I am about as graceful as a water buffalo, and it's taken years to get to this point.
When I was 19, I idiotically took all of the money I had in the world -- all of the money that should've gone to feed me for a month, and bought tickets to Lollapalooza. Lollapalooza is a music festival put on by Perry Farrell, of Jane's Addiction, and has had some pretty amazing bands. Tribe Called Quest performed that year and blew my mind, though, it might have helped that there was a lot of "medical" marijuana in the air. There was a lineup of 50 or so bands, scheduled to play throughout the day on multiple stages. This was anxiety producing for me because, being the burgeoning young hipster that I was, I wanted to check out some of the more obscure indie bands on the other stages, away from my friends camped out at the main stage. I thought about it for a long time before deciding to leave my friends to and strike out on my own. I chose to miss Jane's Addiction's second set to check out a band on Stage 4 that I heard was awesome, a duo called Indigenous.*
I will never forgive myself for this tragic miscalculation.
It was a major walk over to Stage 4, over 25 minutes of weaving through muddy fields and through lines of people waiting for beer and Porta-Potties. Wandering alone around a crowded music festival and being hit on by creepy, drunk guys is not fun for a 19-year-old girl with anxiety issues.
Once I finally arrived, Indigenous still wouldn't go on for another 15 minutes because the crappy stage had to do sound check before each of the 10 bands on the lineup could go on. I didn't realize until the second song that this band was completely terrible. By the time I made it back over to Stage 1, where my less adventurous friends were having a ball, Perry was exiting the stage.
This could be a post about how taking risks is half the fun, but it isn't. This is a reminder that Stage 4 sucks, and it is always better to be at Stage 1, whether at Lollapalooza or with cancer.
Unfortunately, according to my oncologist, I'm stuck over here at Stage 4, listening to a lame Gin Blossoms cover band that he says is called "Follicular Lymphoma."
I've heard of worse band names at Lollapalooza.
Follicular Lymphoma totally shows up late to the gig, trashes the green room, plays a less than mediocre set, fondles some underage girls, and vomits in the van on the way back to the hotel. No one wants to see that, not even on reality television. What's worse is that on Stage 4, they only play their new stuff.
Anyway, take my advice: stay at Stage 1. Or better yet, just save your money, eat regular meals for the next month, and avoid Perry Farrell altogether. He's old and unsexy now anyway.

*My understanding is that this band has added some more musicians and has really grown to be awesome, but eighteen years ago, that was not the case.