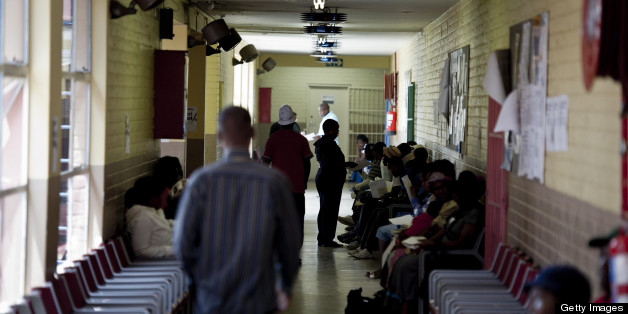 Pililani Julius is twenty-three years old, from Mtambalika village in the Mulanje district of Malawi. Already the mother of two children, Pililani recently lost her third child, a death likely due to pediatric HIV complications. At the time, Pililani did not know that she was HIV positive -- meaning that she was unable to take life-saving treatment that could have prevented transmission to her baby.
Today, Pililani is pregnant with her fourth child -- and, this time, she is armed with knowledge. Prior to becoming pregnant, Pililani and her husband had watched an open-air drama performance run by PSI/Malawi, which explained the importance of knowing one's HIV status and of taking treatment to prevent transmission during pregnancy. Pililani and her husband are now on treatment, protecting their own health and future as well as that of the new baby on the way.
Pililani's story is an important and hopeful reminder of one of the global health community's greatest success stories: the prevention, and hopefully, soon-to-be elimination of mother-to-child transmission of HIV. Today, thanks to the combined efforts of governments, companies, NGOs, health professionals, researchers and everyday volunteers, more children are born free of HIV than ever before.
However, despite tremendous progress, we have not yet hit "zero." Every year, more than 40,000 children are still born with HIV. It is therefore imperative to sustain momentum, build on the lessons we have learned to date, and, above all, invest in and take to scale proven solutions in order to turn elimination of mother-to-children transmission of HIV into a reality.
Learning from History
The history of mother-to-child transmission of HIV in the United States exemplifies what is possible when all sectors work together to achieve a health goal.
In the late 1980s, one in every four HIV-infected mothers in the U.S. transmitted the HIV virus to their infants. By the early 1990s, more than 16,000 HIV infected children had been born. In the absence of treatment, pediatric HIV had rapid progression. At the time, it was estimated that up to one quarter of all children born with HIV died by the age of 2.
The exact timing of transmission to children was unclear at the time. As Dr. Lynne Mofenson noted at the recent Conference on Retroviruses and Opportunistic Infections in Atlanta, the only intervention available was for a mother to know her HIV status and to not get pregnant -- far from a solid solution.
By the mid 1990s, the tide began to turn. Coordination between the private and public sectors helped increase access to effective voluntary HIV testing and counseling services for women and mothers. Simultaneously, this degree of coordination increased access to anti-retroviral therapy for mothers and infants, proliferated safe delivery practices, and expanded the availability and safe use of breast-milk substitutes. Between 1992 and 2004, the United States achieved a 95 percent reduction in pediatric AIDS.
Unfortunately, just as mother-to-child transmission rates were declining in the U.S., the inverse was happening in the developing world, particularly in Sub-Saharan Africa where HIV prevalence was reaching an all-time high.
However, once again, cross-sector collaboration helped slow and reverse the crisis. In 1999, Botswana launched the first program in Africa to combat mother-to-child transmission of HIV with short course anti retroviral therapy, and soon after, GlaxoSmithKline cut the cost of anti-retrovirals by 75 percent for developing countries. Particular emphasis was placed on transmission through breastfeeding -- which is a cornerstone of infant survival in the developing world yet can put infants at dangerous risk of HIV infection. A combination of AZT regime plus a single dose of the drug nevirapine was found to reduce transmission by 83 percent in breastfeeding communities.
Today, coverage of services to prevent mother-to-child transmission of HIV in sub-Saharan Africa has reached 59 percent. Six countries in the region have achieved coverage of more than 75 percent: Botswana, Ghana, Namibia, South Africa, Swaziland and Zambia.
Pushing Towards Elimination
As the global community works to achieve the goal of eliminating HIV transmission from mothers to children (defined as fewer than 40,000 perinatal infections per year and a mother-to-child transmission rate of less than 5 percent), it is imperative to invest in programs that meet the comprehensive needs of women, mothers, couples and infants, particularly in hard to reach communities in the developing world, where need is greatest.
As Dr. Mofenson noted, 90 percent coverage of HIV treatment for pregnant women and infants, as well as treatment for mothers and infants during the entire breastfeeding cycle, is needed to prevent mother to child transmission of HIV. At the same time, investment at the source of the problem -- meaning expanding HIV prevention programs for women and young girls, as well as increased access to family planning options for women and couples -- is vital.
Today, coordination between health organizations like PSI, governments, and corporate partners such as Johnson & Johnson are working to address many of these touch points, ensuring that women like Pililani, regardless of where they live, have access to the information and services they need to protect their health and their family. Investments from companies and private philanthropists, in particular, are helping identify innovative HIV and family planning solutions, providing evidence and a road map to help bring these interventions to scale.
As history has shown us, ending mother-to-child transmission of HIV is a goal we have the power to achieve on a global scale. Let's finish the job.