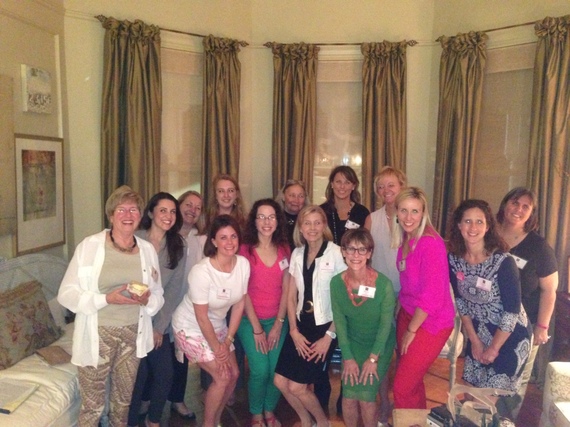 Through the years there has been much written about the relevance of single sex schools and also, often related, about the value of a liberal arts education. As a graduate of an all-girls, liberal arts college, I took these topics to heart when my alma mater, Sweet Briar College, announced it would close in August 2015. Nestled in the foothills of the Blue Ridge Mountains in rural Virginia, Sweet Briar had me from, "Hello." From the moment I stepped foot on campus, I knew this is where I would build the foundation for my future. And at a time when the vast majority of my friends headed to state universities such as L.S.U., I was drawn to the Virginia countryside where I would meet smart, vibrant young women from across the country, each discovering their own place among the rolling hills of this idyllic college campus.
As a woman business owner, I am often asked about today's relevance of a liberal arts education-surprisingly even more so than I am asked about the viability of an all girls' school.
Since the announcement of Sweet Briar's closing, I have been attuned to the actions and reactions of the alumnae, particularly in how the very skills we were taught-those skills embedded in a liberal arts education-are being tapped and put into action. Likewise, witnessing the Saving Sweet Briar process thus far, I have been impressed that those attributes that we as women embody-like cooperation, consensus building, collaboration and respect for learning styles-are the very ones that have allowed the campaign to flourish, from alumnae gatherings across the country, to the raising of $10 million in cash and pledges in a month's time, to creating a federal 501(c) (3), to keen lawsuits and public relations campaigns.
As liberal arts graduates, we are skilled in researching, questioning, interpreting, planning, communicating, solving and implementing. And to layer those proficiencies with the double X chromosome, we have the perfect arsenal to fight for what we believe. Just like a mother will go to all ends to protect her child, we as dedicated alumnae are working tirelessly to right what we firmly believe is wrong. The alumnae have been nimble while being strategic, probing while being respectful and bold while being relentless. And they have been inclusive, finding a seat for everyone at the table.
A Case for the Liberal Arts
A parallel can be made in business. We as businesswomen, especially if we have a liberal arts education, are equipped to handle most any situation. It is said that a liberal arts degree prepares one for life, and it is applying those skills that allows us to compete successfully in business. The confidence that we earn in a women's higher education setting further positions us for leadership roles on the business front and in the board room.
Edgar M. Bronfman, former chief executive officer of the Seagram Company Ltd., advised students to get a liberal arts degree. "In my experience, a liberal arts degree is the most important factor in forming individuals into interesting and interested people who can determine their own paths through the future."
He added, "All the business decisions you will have to make will require you to evaluate raw information, be it from people or a spreadsheet, and make reasoned and critical decisions. The ability to think clearly and critically -- to understand what people mean rather than what they say -- cannot be monetized, and in life should not be undervalued."
Even Steve Jobs embraced a liberal arts education, attributing Apple's success in 2011 to being a place where, "technology married with liberal arts, married with the humanities ... yields us the results that make our heart sing."
Indeed, especially for women in business, a liberal arts background helps us better understand how the world works, offering us a pathway to success. As we claim our space in the ranks of business leadership, we become adaptable and able to provide solutions confidently.
A Case for Women's Education
The Women's College Coalition reports that in its heyday, women's colleges numbered 230; today that number is about 40. Does this mean that women have finally caught up to their male counterparts? Hardly, believes Washington Post reporter Petula Dvorak (March 7, 2015).
She explains that women represent barely 15 percent of the executive directors at Fortune 500 companies and less than 10 percent on corporate boards. While women today earn 60 percent of the undergraduate and Master's degrees in this country, women hold only 25 percent of the tech sector jobs according to the U.S. Census Bureau. Women comprise 78 percent of the labor force in the health care and related disciplines but account for only 14 percent of the executive leadership.
And there is the pay gap. According to the American Association of University Women, women continue to be paid less than males for the same job, and in my state, Louisiana, women make 66 percent of what men make. The list goes on and on.
As a woman business owner with an all-female staff, I could not agree more with what Dvorak suggests: For real change to happen, all -- including men -- must have equal opportunity to experience women in leadership roles.
And it is that leadership, the confidence to go head to toe with the best of them -- men and women -- is the legacy I hope to give my staff while living the lessons of Sweet Briar College.
The Future
While subsequent chapters have yet to be written, alumnae are actively engaged in saving Sweet Briar. Just as we approach our business with long term plans, the Saving Sweet Briar campaign is developing a strategic plan to sustain the college, considering a breadth of options that will reframe the college for the future. A recent alumnae letter advised, "...this is the moment to harness our passion and enthusiasm and create a long-term legacy for Sweet Briar College..."
In its announcement of the college's closing, did the board and recently elected college president ever fully comprehend what Sweet Briar means to its alumnae, and moreover, what the alumnae would do to save it? Margaret Mead perhaps said it best, "Never doubt that a small group of thoughtful committed citizens can change the world; indeed, it's the only thing that ever has."
This blogger graduated from Goldman Sachs' 10,000 Small Businesses program. Goldman Sachs is a partner of the What Is Working: Small Businesses section.