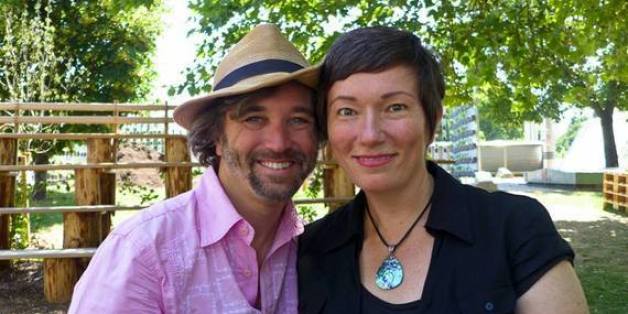 American Jesse and Frenchwoman Celine met on a train from Budapest, two young people who trusted their instincts and got off together in Vienna to spend an entire night wandering the city and talking. Their romance was time-bound; Jesse had a flight to catch back to the U.S. in the morning and Celine had to get back to school in Paris.
If you've watched the movie Before Sunrise, you know that Vienna is as much of a character in this romance as the two young lovers.
The movie spawned two sequels, Before Sunset and After Midnight, tracing Jesse and Celine's relationship over 18 years as the actors aged in real life. But it all started in Vienna, the city we found ourselves in for the first time this summer.
My husband Warren and I are the same age as the characters in the film; that is, we have been their same age all along. Now easing into our 40s and on a book tour to promote our latest book, Married with Luggage: What We Learned About Love by Traveling the World, I wondered if we'd see Vienna the same way they did that first night.
Would we walk the streets for hours, talk about deep subjects and learn new things about each other?
Like the two of them, we arrived on a train and were immediately taken with the architecture and vibe of Vienna as we walked to our hotel. One thing about visiting Vienna in our stable 40s versus our student days is that we didn't have to keep walking the streets all night to save money. Our short walk from the train station took us to the Hotel Alstadt, an artsy boutique hotel that is quite possibly the best place we've ever stayed in all our world travels.
If Vienna was part of the reason Celine and Jesse fell in love, then the Hotel Alstadt was part of the reason we found Vienna so romantic ourselves.
Walking the city is easy to do, especially with the architectural interest of some of the grandest public buildings we've ever seen. We spent a week wandering the neighborhoods and parks of Vienna, marveling at the grandeur.
In the movie, Jesse and Celine are invited to a play. In our Vienna, we were able to watch a performance of the opera from the big screen outside the theater in the warm summer evening.
The ferris wheel in Vienna's Prater Park is more like a cable car than the bench seating we're used to in the U.S. I'm not sure how Jesse and Celine got a car all to themselves in the movie, but I'm glad they did so they could share their first kiss. When we were in Vienna, the only way to insure we were solo in a car was to purchase it for an hour or more. In fact, you can rent one designed by Swarovski (full of crystals, of course), and couples often do this to mark big events or wedding proposals, complete with champagne or dinner.
Perhaps our favorite activity in Vienna was not too far removed from the low-key walking and talking of Jesse and Celine. We picnicked in the parks, spreading a blanket on the soft grass under large trees to enjoy some Austrian wine and simple summer food. Outdoors was our favorite location, whether at a sidewalk cafe, a park, or even the wide boulevards of the city center.
Our conversations in Vienna were different than theirs, of course. Being married for 10 years means we know each other pretty well already. But walking the streets of Vienna together without a cell phone or an itinerary allowed us to have some of the best conversations of our entire trip. We're still learning new things about each other, asking questions as we put ourselves in new situations and refitting the puzzle pieces of our personalities into different pictures as our love matures.
Vienna is a magical city, well worth a return visit, especially with the person you love.
Like Celine and Jesse in the closing minutes of the movie, we each gazed out the window as we left Vienna for our next destinations. But unlike them, we left together, continuing our journey in life and love.