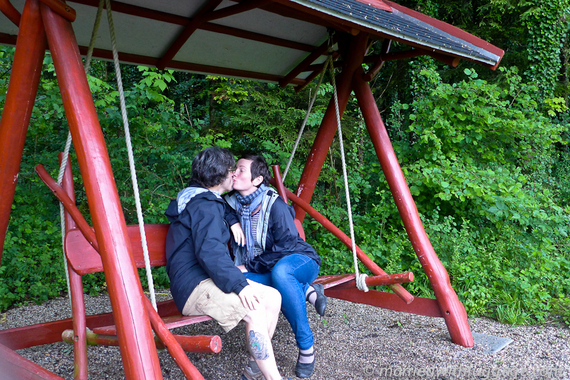 The cool mountain air, majestic scenery, and icy cold waters of Lake Lucerne were the perfect setting for a cozy romantic weekend together. But you can't just depend on the environment to make a romantic weekend work, so we set out to discover what there is to love about love in Lucerne.
We arrived in this stunning city by train as part of the tour for our latest book, Married with Luggage: What We Learned About Love by Traveling the World. The train ride up from Italy was stunning, passing through the beautiful towns of Lugano and Lake Como and climbing into the Alps. Before we arrived, we were already in love with this stunning part of the world.
Where We Stayed
Our hotel was an easy pick for romance: The Wilden-Mann Hotel Luzern is part of the Romantik group of hotels, and they didn't disappoint. From the train station, it's just a short walk along Lake Lucerne to this historic hotel, right across the street from an old apothecary where you can still see the labeled ceramic jars of herbs and medicines on the shelves.
As we learned from a Latin inscription at another apothecary in town -- amor medicabi lis nullis herbis -- "there is no herb that can cure love."
Normally we skip the hotel restaurant when traveling, thinking of it more like the Denny's that is always next to the La Quinta in the U.S. -- convenient, but not necessarily the best. But we kept seeing people come to the reception desk from the street to inquire about reservations at the restaurant, so we decided to check it out.
What We Ate
In a cozy corner booth, we enjoyed an incredible meal from Chef Simon Oehen, including the local specialty Chügelipastete, a pastry shell containing chopped mushrooms and veal with a creamy sauce. It is traditionally served with a pastry heart on top, and it was the most delicious gourmet "pot pie" we've ever had.
What We Saw
To walk off our dinner-time indulgence, we went to the Chapel Bridge, an 800-year-old covered wooden footbridge crossing the Reuss River that runs through Lucerne. This famous landmark is the oldest covered wooden bridge in Europe and contains triangular paintings dating from the 17th century. Looking closely, you can see various coats of arms and heraldry on the lower corners of the paintings, announcing who "sponsored" that public work, just like companies do today.
The Chapel Bridge opens up to the "old town," full of shops and cafes, and we wandered the cobblestone streets before heading back to the cozy bed in our hotel room.
Where We Walked
Mark Twain was the planner of the next leg of our romantic adventure. He climbed Mt. Rigi in 1878 as part of the research for his book, A Tramp Abroad. Nine years later he returned with his wife and spent 10 weeks in the town of Weggis, of which he wrote:
This is the charmingest place we have ever lived in for repose and restfulness, superb scenery whose beauty undergoes a perpetual change from one miracle to another, yet never runs short of fresh surprises and new inventions.
Obviously, we had to see this place. We took a 40-minute ferry to Weggis, stopped at the tourist information center for a map, and then began walking up the same trail Mark Twain took over 135 years before. There is now a cable car that runs from Weggis and a cogwheel train that runs from nearby Vitznau, but we went old-school and trekked up just like Twain.
The climb starts with a plaque under the tree where Twain liked to sit and reflect, and there are informational markers along the way. We stopped to take pictures (and catch our breath) at several points, and it took us about 5 hours to get to the top of this steep climb. If you're a fairly fit person, you'll enjoy this. If you're not, you can still enjoy the views of this spectacular place by taking the cable car or cogwheel train.
We took the cogwheel train back down to Vitznau and enjoyed a glass of wine on the ferry back to Lucerne. In the distance on a hill overlooking the city, we could see the historic Chateau Gütsch, which was just reopening that week after 12 years of neglect and a sparkly revitalization. This luxury hotel might be out of most people's price range for a stay, but you can enjoy the view for the price of a drink.
What We Learned About Love
Just a couple of train stops away from Lucerne is a Marriage Walk called the Blattner Liebesweg, starting at the Church of St. Jost. It is an easy stroll down a path to different stations asking questions about love and relationships. It's meant to help you commune with your partner and strengthen your love, but since we don't read German we just made up our own questions along this peaceful walk before signing our names in the book at the end near the red swing. We even enjoyed a picnic of bread and cheese while on this romantic stroll.
To cap off our last night in the city, we indulged in some guilt-free chocolate and one last soak in the big tub in our suite. What's more romantic than that?
The time in Lucerne was an unexpected treat in our book tour. We had no expectations going in, and we left with a strong desire to return to this part of the world and explore the warm hospitality, incredible scenery, and delicious food.
If nature is what spurs your romantic soul, then Lucerne should be on your travel bucket list.