Listen, we didn't get into this whole BYOBlog business to talk about classy restaurants that graciously allow patrons to bring their own $30+ wines. Our enterprise relies upon the availability of Yellowtail at CVS and corner bodegas with critter wines priced under $10. We love food, but we also love getting wine drunk enough to eat the non-edible garnish and order an extra plate of fries.

So when one of our favorite BYOB restaurants decided to limit the alcohol each party could bring in (a bottle of wine or six-pack of beer per two people), we were disappointed to say the least. Still, Chilam Balam's name is a nod to the Mayan prediction that the world will end in 2012, and if it's true, then we had to have those grilled pork ribs sprinkled with queso fresco at least once more time in our lives, even if it meant limiting our alcohol intake.

Our reservations at Chilam Balam for night were at 6 p.m. I miraculously arrived at the Belmont Red/Brown/Purple stop early, and knowing the perpetually late tendencies of my fellow diners, I took my leisurely time on the usually 10 minute walk to the restaurant. (Side note: I stopped by Kickstand Espresso Bar (824 W. Belmont) and had one of the best-made mochas I've had in a long time.)

Chilam Balam continued to confirm our suspicions that it had gotten too popular and fancy for our tastes when we arrived and couldn't sit, despite our reservation, since our entire party had not yet arrived. During the wait, we pulled a classic "go buy something at CVS to get cash back" trick since it's a cash-only restaurant. (Yes, the aforementioned purchase was Yellowtail Cabernet Sauvignon, thank you for asking.)
Still, the staff at Chilam Balam is extremely friendly: We explained that we were rushing to a concert that night and promised to order food immediately, and were seated without further fuss. It was clear that the new booze/seating regulations are to stem the flow of rowdy partiers, considering their food is amazing and the space is small, so they can get more tables seated in a night.

Our server was a genial guy who was clearly experienced at upselling everything. He suggested two to two and a half small plates per person, which seemed excessive, even for our appetites. Instead, we ordered six plates (for four people) plus a dessert, and felt totally full afterwards.

There's really nothing bad to say after this point; each dish was a revelation. The chef has a gift at creating dishes that seem at once familiar and new. We started with the blue marlin ceviche (small but delicious) and grilled baby octopus with sun dried tomatoes, potatoes and a creamy fennel pumpkin seed puree. The octopus was tender and the texture matched perfectly with the fresh-tasting puree.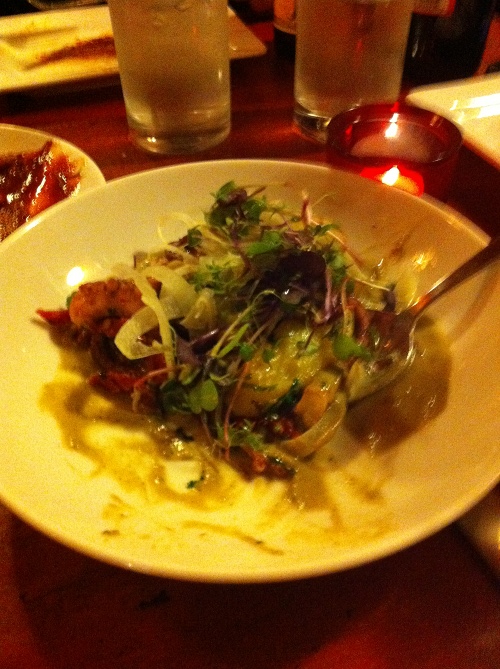 The pork ribs were delicious, as expected, and we teased Ben a bit for insisting on using his fork and knife when the rest of us had already moved on to tearing the meat off the bone with our teeth. He looked a bit wistful and said, "I have to be conscious of my beard." Can't say I've ever been there.

Another favorite was the special tamale plate, which included pork shoulder and butternut squash. None of us really knew what was on it because the server rattled off the ingredients really quickly, but we all agreed it sounded good, vaguely. The result was a lot more impactful -- the juicy pork was smothered in a zesty mole sauce that this photo really doesn't do justice.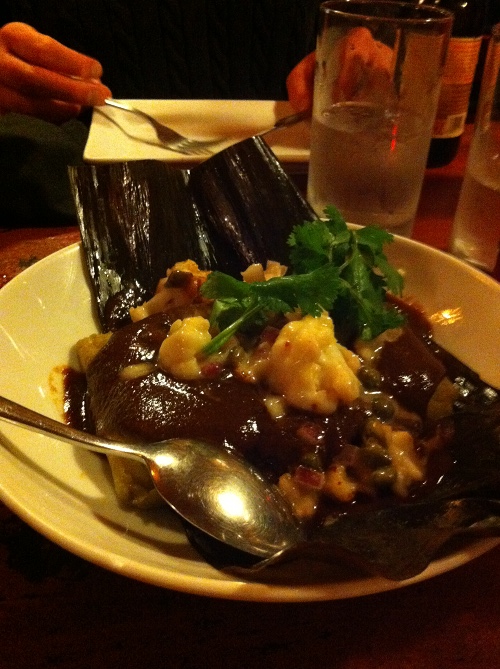 Surprisingly, the most widely lauded dish of the night was our dessert, a hibiscus flan with vanilla-lime ice cream and candied pepitas. Something about that hibiscus syrup was just so hypnotizing. We were also riding a high of having just scarfed down six amazing small plates, with the anticipation of the Mika concert hovering on the horizon. (Yes, it was amazing, and much dancing ensued.)
TL;DR -- Chilam Balam is the perfect BYOB for people who love good food and are not too concerned about binge drinking. Remember to bring cash and order in waves so you can savor each dish without getting too full.
Food: 4.5/5

Atmosphere: 4/5

Friendliness to Partiers: 1/5