My grandma makes a mean pan-fried milkfish, and her pork and daikon soup is pretty legit. But she lives in southern Taiwan, and Grandma J's Local Kitchen is less than a mile down the street. Plus, Grandma J serves fried chicken and waffles and has a Bloody Mary platter. Sorry, Ah-Ma, when Sunday Funday rolled around last week, Grandma J's was the superior option.
I'm not a J's amateur. I'd ventured to this Humboldt Park eatery on two separate snowy nights last winter. The menu changes often, but we enjoyed most dishes -- the gumbo was spicy and just the right amount of gooey, and the po' boy came with heavenly mashed sweet potatoes with a balsamic glaze. The one dish that didn't sit well with my fellow diners was a garlic soup that had too much allspice and not enough garlic (but you all know how I feel about garlic...). This minor disappointment was erased when we received a free Roeser's Bakery cheesecake to end the meal.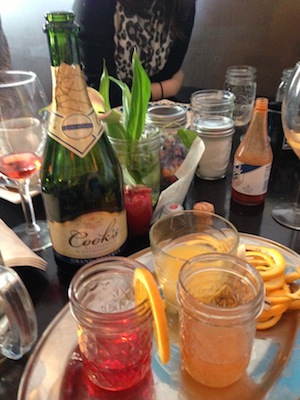 Despite these positive experiences, I didn't want to review this place until I had experienced brunch. Oh, glorious brunch. The space is small and the seating is eclectic, so when we arrived, they couldn't accommodate our six-person party. But after about 20 minutes standing outside, the friendly server came out to offer us some fresh-baked cookies. "You just looked so cold out here!" she said. Grandma J's definitely deserves bonus points for genuinely caring about their customers' happiness.
Inside, the space is cozy, with old timey art on the walls and quilt-like patchwork ceiling tiles. An assortment of board games is available (for those who are on a first date and aren't embarrassed to lose spectacularly at Connect-4 in front of a potential mate), and jars of old-fashioned candy tempt those waiting for food. The kitchen is open, and seating is available at the counter -- much like your grandma's house, presumably.
For beverages, we ordered the mimosa platter (with papaya mango juice, cranberry grape juice, orange juice and assorted fruit) to pair with the ultra-fancy Cook's Grand Reserve sparkling wine that we brought. We also tried the Swedish coffee, which is coffee that is brewed with an entire egg, shell and all. That makes it sound more intense than it is -- it just tastes like really good, smooth coffee. And no, you can't see bits of egg floating in it like egg drop soup, which is what we expected.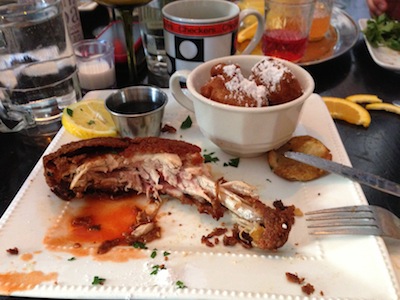 The food was really on-point, though not as mind-blowingly delicious as I expected after experiencing the aforementioned mashed sweet potatoes. The fried chicken was juicy, with a perfect salty, crispy outer layer. The waffles that accompanied it were actually funnel-cake-like pieces of fried dough -- nothing to complain about there. My dining companions ordered the Works (consumed eagerly before I could ask for feedback or take a picture) and the Chicken and Pineapple Sammy, which was applauded equally by both my petite female friend and my larger meat-obsessed male friend for being the juiciest chicken breast they've tasted.
TL;DR: Grandma J's cooks up homey meals that are either a glorious hit or near miss - but the cozy atmosphere, excellent service and brunch booze options make it well worth the trip.
Food: 3.5/5






Atmosphere: 5/5






Friendliness to Partiers: 4/5





Price: Grandma J's Deviled Eggs, $3; Morning Sandwich, $9; Chicken & Waffle Fritters, $11
Grandma J's Local Kitchen
1552 N. Kedzie Ave
North & Kedzie
www.grandmajschicago.com